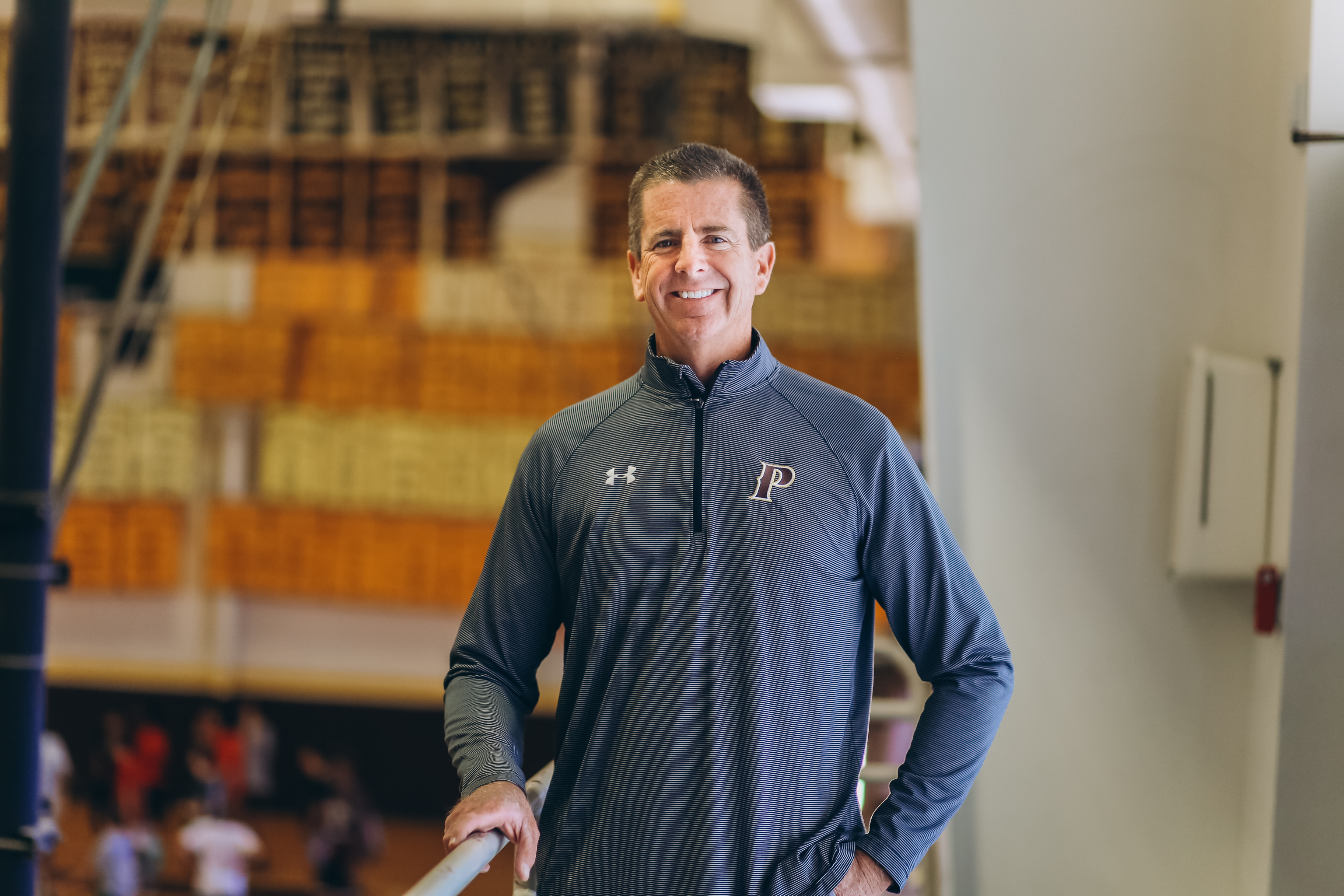 This article was first published in the Summer 2018 issue of Parker Magazine.
By Melissa Beltz
John Herman has taken on a number of different responsibilities at the School over the course of three decades: boys' volleyball coach, mentor, teacher, and, most recently at the School's request interim Athletic Director.
"This School has given me so much; of course I was going to say yes," says John, who was tapped to fill the position for the 2017-2018 school year.
Though John enjoyed his year in the role, he is excited to turn his attention back to the volleyball program and his players.
"I had to take a step back from Middle School athletics when I took this position," he explains, before adding with a smile, "I'm jumping back in this year."
Volleyball has been at the core of John's career since the early 1990s. He has led Parker teams to 15 CIF championship wins, a state championship title, and an appearance at nationals. But it's not the wins that have kept him in the game all these years. It's the excitement he finds in the game itself and especially in his players.
"I always look forward to coming to work—I get to do what I love and teach kids sports," he says. "When the light clicks on in their eyes and they're able to do something they couldn't do before, you just see the excitement in them. It's the best part of my day."
Growing up in Huntington Beach, John played volleyball recreationally, and walked onto the team at Long Beach State in his freshman year. As a long-jumper and basketball player in high school, John says he had to work extremely hard to make up for his lack of formal volleyball experience. He passes on that spirit of hard work at every Parker practice.
"We play in the best leagues; we play against the strongest teams," John says. "When we are successful against really strong competition, I know what those kids have put in—the time, the sacrifices. They worked really hard over a long period of time to achieve that success. They went to a place they didn't think they could go."
As interim athletic director, John looked to bring athletics staff to Parker who would display that level of dedication. In hiring new coaches, he sought candidates whose energy was contagious, whose passion was evident, and who took the time during their interviews to emphasize the development of student athletes.
"We always tell our players, 'You're leaving your legacy.' They're playing for themselves, for the School, and for the legacy of the program and the alumni who came before them."

– Coach John Herman
A good coach, John says, is imperative to the students' overall educational experience. The goal is not just to improve players, but to inspire them.
This belief connects many generations of Parker athletes. It's also the reason why many former Parker athletes return to coach the sport they love at the School they love.
"Alumni coaches understand the environment of the School and the demands that are placed on our students," says John. "They come back because they know their time as an athlete was instrumental in their development and they want to give that to their own players."
"The expectations are higher at Parker, and that's a good thing," John says. "Our athletes are stretched and pulled to levels they didn't know they could reach. Parker's legacy helps with that."
John has already worked on a few projects with incoming Athletic Director Anthony Thomas, and he is confident that the department's new leader will continue the great work already underway.
"Anthony is going to hit the ground running," John says. "He's got a lot of experience, he's a relationship-builder, and he's very collaborative in how he does things. I'm really looking forward to working with him."