From Grade 1 to the 2018 commencement stage, nine Parker students stuck together to earn one of the greatest honors as members of the Boy Scouts of America: Eagle Scout.
To earn the rank of Eagle, the scouts had to put in years worth of work and service to their community. They had to earn 21 merit badges; demonstrate leadership; and plan, lead, and complete a final service project before going before a review board to gain that final medal and badge.
Each of the Parker alumni dedicated long hours to their final projects, raising funds, working with various stakeholders, and organizing teams of volunteers to carry out their vision. The projects helped serve the community at large and will make a lasting impact on those communities to come.

Wyatt Williams '18
As a member of the Sacred Heart Parish in Ocean Beach, Wyatt helped prepare food to serve to dozens of homeless and low-income individuals in the area through the church's Feeding the Hungry Ministry. Sacred Heart's desire and capacity to do good inspired his final Eagle Scout Project; Wyatt knew he wanted to give back to the church that was already giving so much to its community.
The church had been undertaking a renovation plan and Wyatt asked which task would be the most difficult and time-consuming. Wyatt then began drawing up the plans needed to fully landscape the exterior of the church's cottages. Over 3 tons of dirt and tree stumps were cleared to make room for the new additions. Wyatt and his team of volunteers hammered bender board into place, installed irrigation tubing and control systems, and planted more than 70 drought-tolerant plants in the space before covering the top with mulch.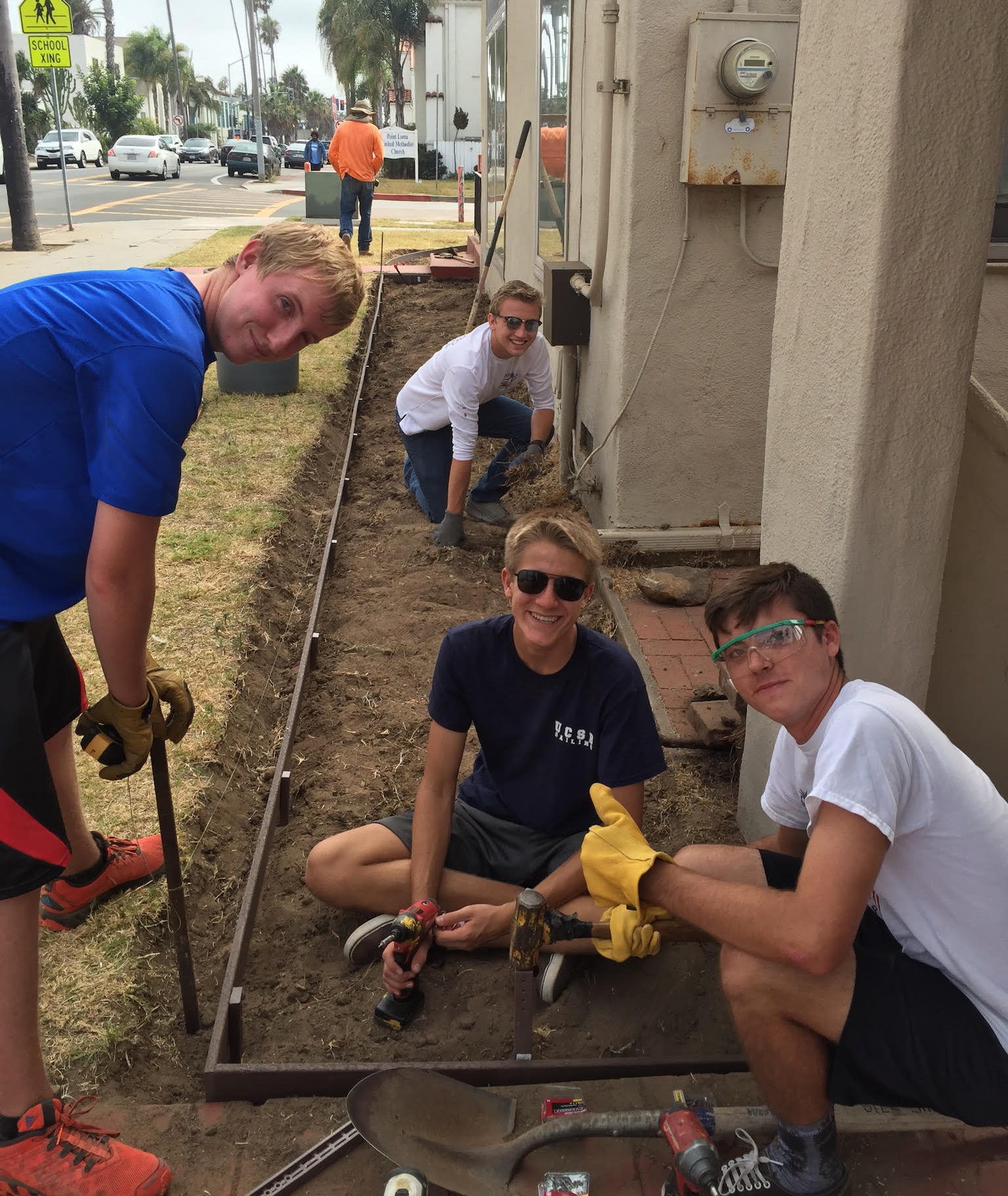 In total, the project lasted about one week and involved more than 125 hours of manual labor.
Wyatt joined the scouts as a cub scout in first grade. He says the Boy Scouts' emphasis on community engagement is what drove him to continue through the program from cub to eagle: "We cannot forget who we are as a collective and that duty to others reigns supreme over self-preservation."
Wyatt is attending Santa Clara University in the fall to pursue a major in neuroscience. He will join fellow Parker alumni and Eagle Scouts Kurt Williams '18 (who also happens to be his twin brother) and Jack Davey '18.
Jack Davey '18
As a senior patrol leader (SPL), Jack held the highest position of a scout—leading patrol meetings, scheduling events, and planning excursions. "It was fun being able to make decisions and plan where the troop would go for outings and hikes. It was exciting to be responsible for my friends and being the leader for our troop. I was also able to reach out and mentor younger scouts and troops as an SPL."
But even SPLs need to complete a final project to earn the highest honor of Eagle Scout. Jack set his sights on Morley Field, the dog park in San Diego's Balboa Park. Jack worked with park rangers and fellow boy scouts to install new fence posts and run nearly 300 feet of cabling that would keep the dogs safe and give their owners greater peace of mind.
Like many of his fellow Eagle Scouts who attended Parker, Jack joined the scouts as a cub when he was about 5 or 6. The scouts, he says, helped bond him and the other Parker students together from beginning to end.
"It would have been more of a challenge if I didn't have friends in my troop. We worked together to get our badges. The skills I learned will always stay with me," says Jack.
Jack will take those skills with him to Santa Clara University in the fall, where he plans to pursue a major in computer science. He will join fellow Eagle Scouts and Parker alumni Wyatt '18 and Kurt Williams '18.  
Ryan Austin '18
In a parking lot near San Diego's Presidio Park, a newly-installed kiosk stands in the clay dirt and provides information to the park's daily visitors. Its location is in a well-traveled area, and serves to benefit the numbers of people who visited the historic park each day. Ryan, who lives near the park and knew the once-dilapidated kiosk well, fixed his sights on it for the final project that would secure his rank of Eagle Scout.
While tearing down and building a new stand may not seem like a massive undertaking, Ryan ran into many challenges both before and during installation. The first challenge was getting permission from the city, which raised concerns about the Native American burials located beneath the park. Another challenge arose on the day of installment, when Ryan and his crew of volunteers realized the ground they were attempting to dig into was solid clay.
After bringing in an auger to break up the ground, Ryan and his team managed to build and install the new kiosk in a day, with Ryan returning the day after to install plexiglass—the final touch on the new display.
Ryan's journey from cub to Eagle Scout began in first grade, like many of his fellow Parker classmates who were also scouts.
"I don't think we all would have kept going if we didn't have our friends in the troop," says Ryan. "It's fun and it's a bonding experience. It got me out the door doing things I would have never done otherwise."
Ryan is heading to Daytona Beach, Florida later this summer where he will attend Embry-Riddle Aeronautical University and pursue a major in aerospace engineering.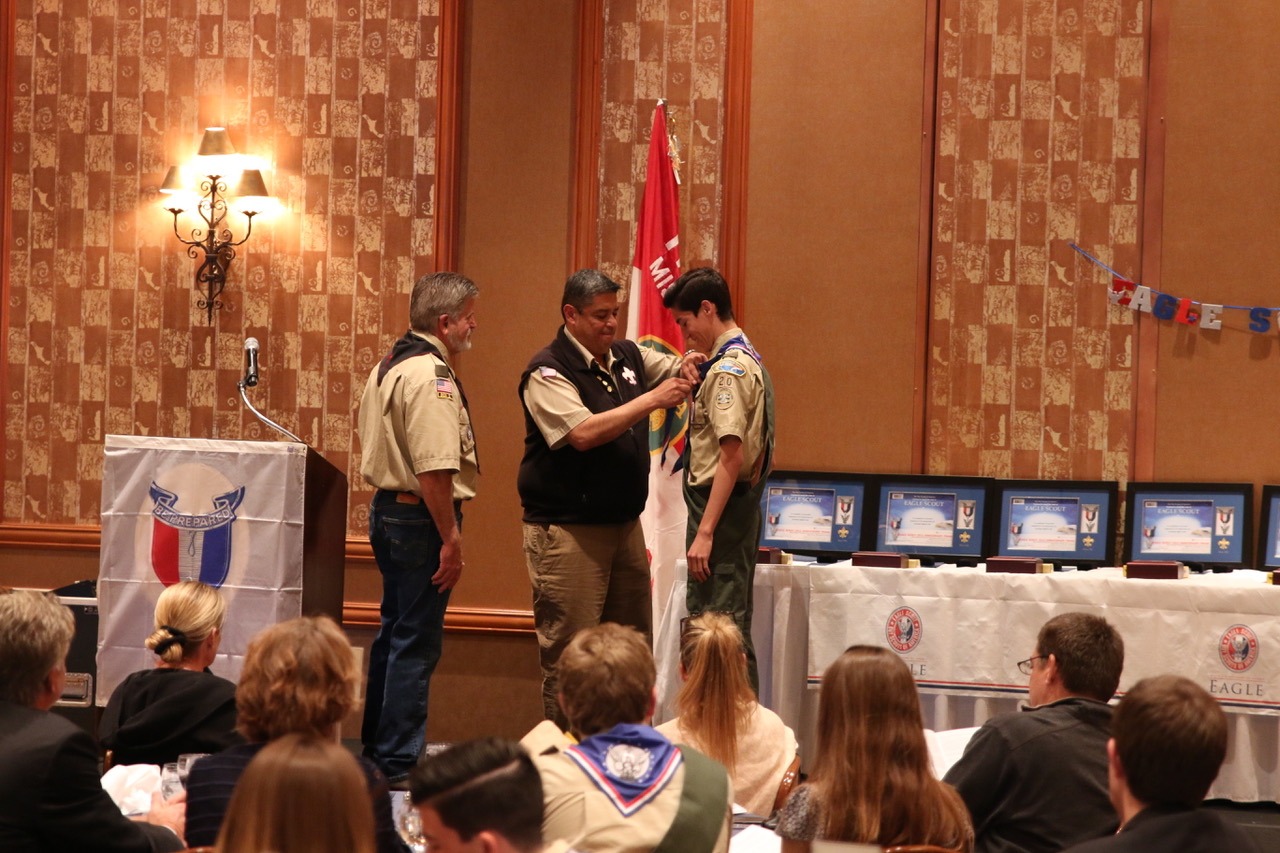 JT Melbourn '18
Following in his father's footsteps, JT climbed the ranks from a young cub scout to the highest rank of Eagle. Beginning in the first grade, it was a long journey and a far climb, but worth every moment, according to JT.
"Scouts prepared me to be able to take care of myself, and gave me the confidence to be independent. It got me to try things I wouldn't have tried otherwise," he says.
But it wasn't always his family's legacy
that kept him going through the years; it was the motivation he found in his friends, fellow Parker students, and the community they created at School and at scouts.
"Without my friends, I wouldn't have been as motivated to go as far as I did. Having the community really helped," says JT.
For his final project, JT repaired the handrails of an old footbridge located in Presidio Park, near the Taylor Street exit. It is a well-used footbridge, and JT was confident his project would have a big impact on a lot of people.
With a group of his fellow troop members and parents, JT helped lead the day-long project that consisted of removing the old handrails and building and installing new ones. They reused the metal bolts from the old footbridge, but brought in new wood to custom-make fresh handrails.
JT will be attending Seattle University in the fall with plans to pursue a career in law enforcement. His experience as a scout and the vast network the association lends to its members helped connect him to local law enforcement officers, including San Diego Sheriff William Gore and a special agent from the FBI's local San Diego branch.
Carson Cook '18
On his way to becoming an Eagle Scout, Carson chose an ambitious final project, focusing on the Pioneer Day School's community recycling program. Pioneer Day School provides programs to help children with disabilities transition to public school. One of those programs is community recycling, through which kids collect recyclables from local residents and organizations to sort and bring to a recycling center. The program not only promotes recycling, but also gives the kids a chance to work on their visual and motor skills.
Carson raised funds to clean up the area students use to sort the recycling, bring in new equipment, and secure the area with a lockable fence. With a team of volunteers, Carson brought in new and sturdier sorting bins, wall-mounted can crushers the kids could use easily and safely, and a chain-link fence that would keep the area secure.
"Through these new additions," says Carson, "I hope to incentivize the continued use of this program for years to come."
Holden Enniss '18 and William Keith '18
Having spent so many years together in the scouts earning merit badges, it seemed only natural to work together on the project that would help them attain the highest rank of Eagle Scout. Holden and William turned to Presidio Park and a retaining wall that had been constructed over time by various Eagle Scouts, including other Parker students.
Holden and William contributed 50 feet to the retaining wall using 10-foot planks of redwood and railroad ties to connect each plank. The wall is not only designed to keep dirt and debris off of an adjacent hiking trail, it helps curb erosion and preserve an important piece of San Diego history.
Kurt Williams '18
Kurt didn't have any construction experience before taking on his final Eagle Scout project at Sacred Heart Church in Ocean Beach. All he knew is he wanted to choose a project that would have a lasting impact on the community it benefited.
"I looked up to the scouts who did the big projects that made an impact on the community. I wanted to do that too," he says.
After talking with the church's leadership, he decided to build an outdoor patio where the youth group could hold their meetings. Kurt met with contractors and electricians to certify
his project would be done correctly and up to code, and began a three-month process of fundraising to afford such an undertaking.
Kurt and his group of volunteers tore out hundreds of square-feet worth of concrete, laid conduit lines and rebar, then a team of contractors came in to pour the concrete. When the project was complete, Kurt had successfully created a space where the 60-person youth group could meet and the church could grow.
Kurt has been in the scouts since grade 1. He says the knowledge and skills he gained as a scout helped him develop as a person and helped him better serve the community in which he lived.
"Scouts emboldens you to be a leader," says Kurt.
In the fall, Kurt will attend Santa Clara University along with his twin brother Wyatt, and fellow Parker alumnus and scout Jack Davey. Kurt plans to pursue a major in electrical engineering, with a minor in either business or finance.
Jeremy McCulloch '18
For his Eagle Scout project, Jeremy focused on the Ronald McDonald House of San Diego. He and a team of volunteers helped build a new playhouse for the children who spend time at the center. Together, the team put in about 100 hours of manual labor.
Before becoming an Eagle Scout, Jeremy was a Life Scout, the second highest rank in scouts.