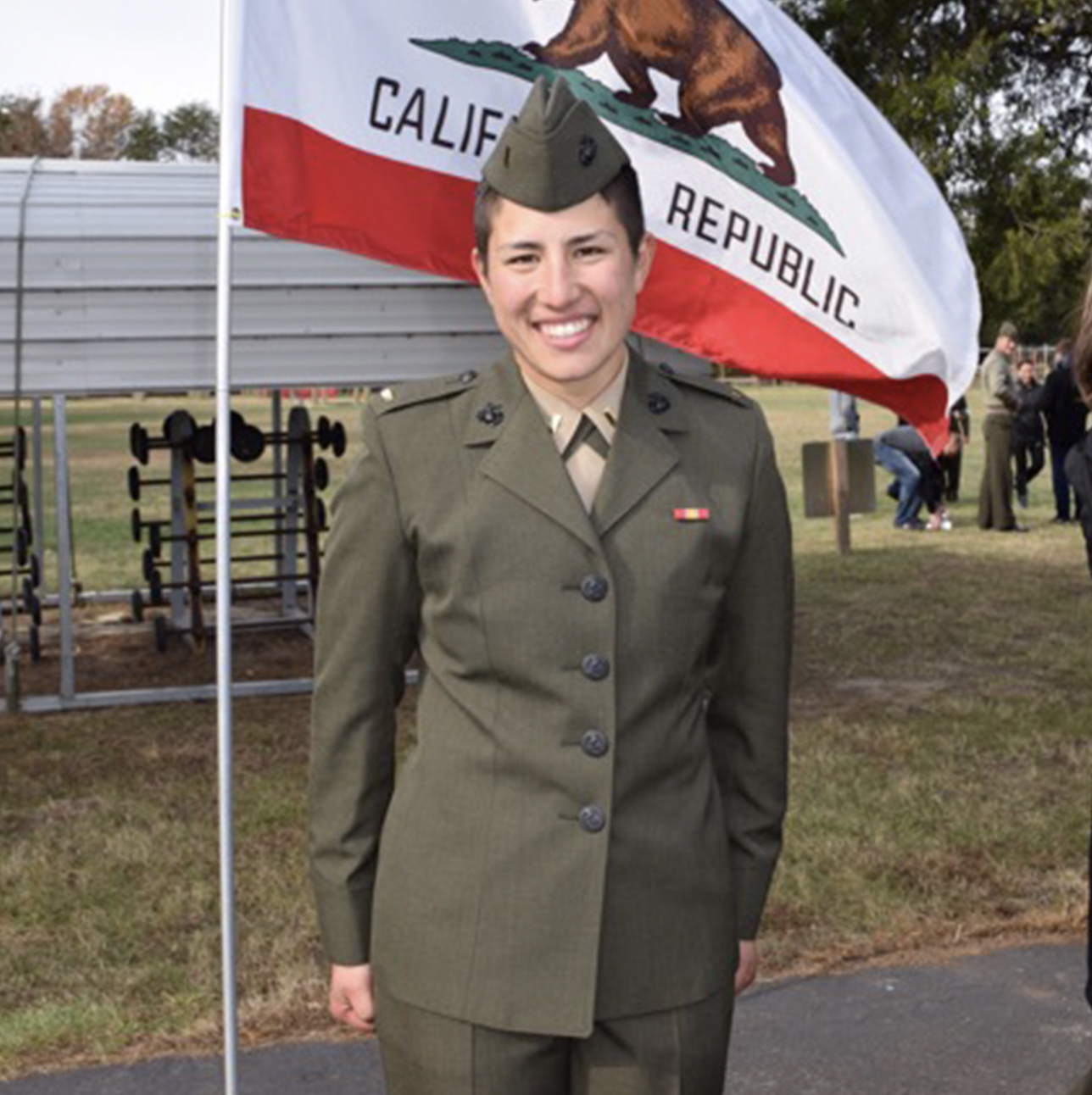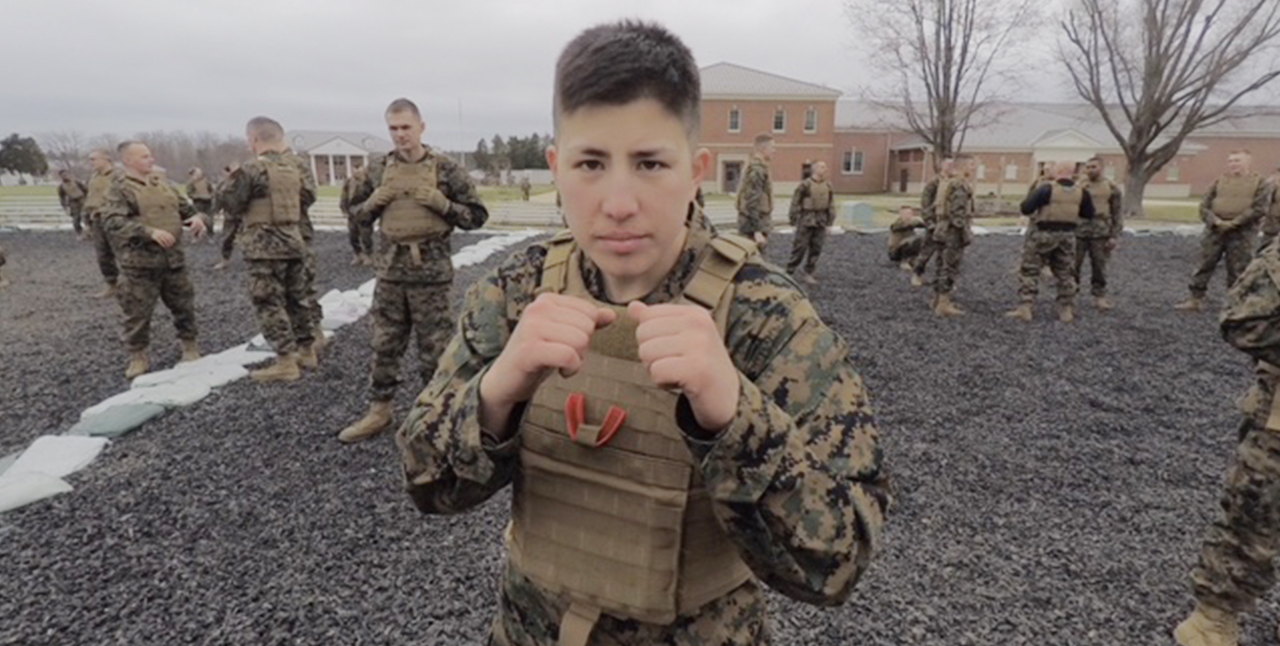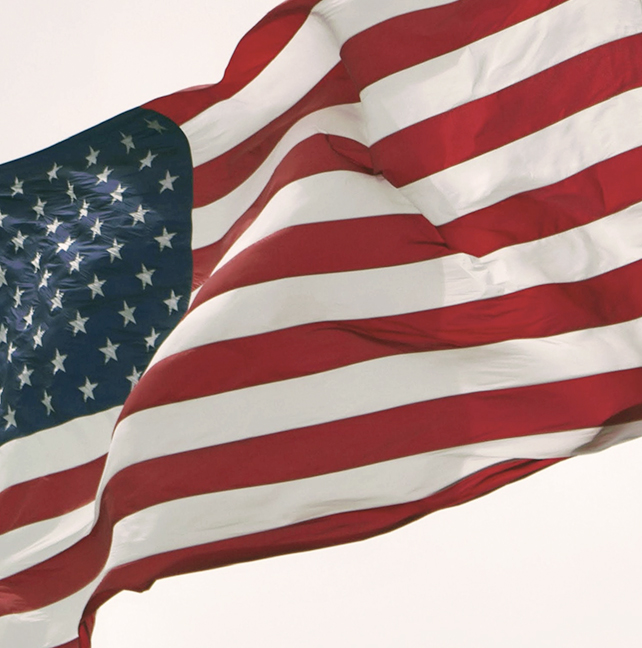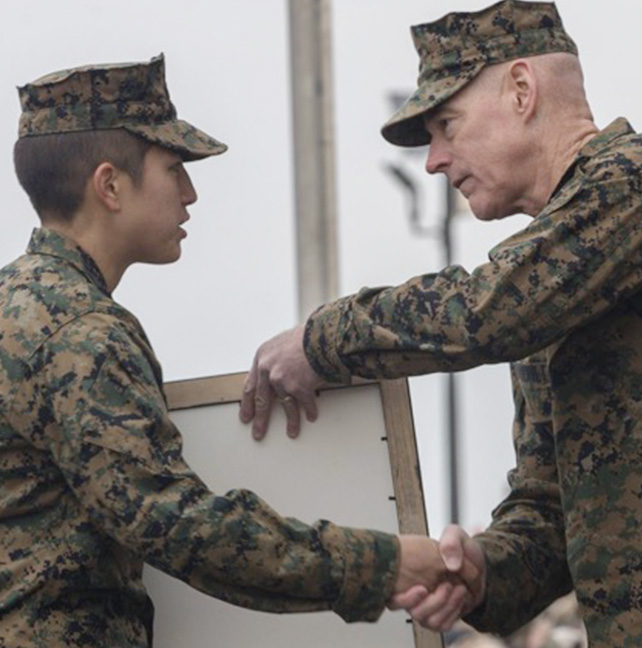 The daughter of a naval doctor and army psychiatrist, Johanna Tam '11 knew early on she wanted to follow in her parents' footsteps. Since the age of 4, she harbored a dream of becoming a marine but talked about it tentatively with only her closest confidants. She didn't want to draw attention to a life-long dream that could be shattered in just 12 weeks of recruit training. She didn't want to talk about her dream and have to come home not a marine.
After graduating a Parker lifer in 2011, her family talked her out of enlisting right away and pointed her instead down a track that would take her through college and into an officer's career.
Johanna is now attending The Basic School (TBS)—the elite training school in Quantico, Virginia where all newly commissioned officers learn how to be an Officer of Marines. When her training at TBS is complete this fall, not only will Johanna come home a Marine, she will join the tiny percentage of women in the United States Marine Corps who become officers.
"It's still not real some days," she said, just weeks before leaving for TBS this past spring.
Johanna's journey to becoming a Marine Officer started in San Diego. After graduating from the University of Southern California in 2015, she connected with an Officer Selection Officer (OSO) in Mission Valley who helped her prepare physically and mentally for the first leg of training at Officer Candidate School (OCS). Johanna called the 10-week OSC course a "gut check," intended to screen candidates to see whether or not they had the potential to lead their fellow Marines.
"You get yelled at a lot, you don't get any sleep, you're on your feet 10 to 15 miles every day on average. You're hiking, running obstacle courses, and learning very basic skills to see if you can retain that knowledge while being sleep deprived, hungry, and tired," she said.
Johanna trained for years in preparation for OCS. With the help of her OSO, she changed the way she ate, slept, and worked out.
"I'm not a typical athlete. I'm not super fast or super agile. I transformed by body completely for school," she said. "It's not an easy 10 weeks. A lot of girls show up unprepared. It really changes your body and mind."
With a high attrition rate among women at OCS, Johanna was determined to be part of the remaining percent that completed the course to become not just a Marine, but a Marine Officer. She powered through her training, ignoring multiple sprained ankles, and graduated in November 2017 as a Marine.
Hard work is the basis of everything. It's the foundation from which you grow. If it's not hard, it's not worth doing. If it's easy, it's not worth your time. You don't grow doing easy things. It's got to be hard. It makes you appreciate your life more.
Towards the end of her time at OCS, Johanna completed a five-mile endurance course that acts as a final test for graduation. If you pass that course, said Johanna, and your academics, leadership, and physical training are strong, you pretty much know you're going to make it.
"I didn't talk to anyone that morning. I couldn't talk, I was so nervous," Johanna recalled. " I was the last person to launch because my last name is at the end of the alphabet. I was the last person out of four platoons. I didn't see anyone, I didn't pass anyone. I was completely alone. I had no idea how fast I was going or what my pace was. I only knew my start time."
When she got to the end of the course, Johanna did the math as she paced around the cool-down circle, trying to figure out if she had completed the course under time.
"I was so tired and out of breath. When I realized I had passed, I just started crying," she said.
At the very end of the OCS course, candidates ran the Medal of Honor run and received their Marine Corps Emblem—the emblem that symbolizes they are officially Marines.
"They handed me that black piece of plastic and it was probably the best moment of my life. Women work so hard and we cannot let that legacy down. It's about people, history, tradition, upholding what you've been indoctrinated into," said Johanna. "Getting to do this every day is really cool. It's not always fun, it's not always easy, but every day that I get to go be a Marine is a dream come true."
Her next step was The Basic School at Quantico. About four months after she graduated OCS, Johanna started TBS in March 2018. She knew before she left for training that TBS would be a much harder course.
"OCS was a sprint; TBS is a marathon. This six months forms every foundation that is every Marine Officer," she said.
During the course, Johanna receives training on weapons, tactics, leadership, and protocol. This training takes place in the classroom and in the field. It is a grueling six months, but Johanna knew she was ready to take on the challenge.
"There were a couple of times that it clicked in me that this was something I needed to do. I felt so compelled to train for OCS. I never felt like I had a choice. This was something I had to do. I had to be a Marine, I had to be an officer," she said. "The majority of our military is made up of 18- or 19-year-old kids and they have no idea what they're in for. We send a lot of them overseas and a lot of them don't come back. Being an officer means taking care of those sons and daughters and making sure they come back alive. That's what drove me—knowing that's what I would be doing as a Marine Corps Officer."
Johanna hopes to pick up an aviation contract once she graduates from TBS. It's a competitive path, she admitted, but she's had her sights set on flying helicopters since she first began researching the Marine corps. "I'm going to try really hard. I would like to fly," she said.
Her appetite for hard work might just be the edge she needs to secure that contract. Hard work, according to Johanna, is the only guarantee one has in life to achieve their dreams. It's advice she often gives her younger sister, Ruth Tam, Class of 2020.
"Never ever forget the importance and necessity of hard work. I tell my sister that all the time. No matter what you have going into your life, hard work is the only thing that ever guarantees you anything," she said. "Hard work is the basis of everything. It's the foundation from which you grow. If it's not hard, it's not worth doing. If it's easy, it's not worth your time. You don't grow doing easy things. It's got to be hard. It makes you appreciate your life more."