Parker's robotics club hosted an FTC (FIRST Tech Challenge) league competition on Sunday, Dec. 9, providing a space for 14 local, community-based robotics teams to compete. One of those teams was FTC 10092, the Green Griffins, which seeded 7th and made it to the semi-finals in an alliance with another local team.
Aidan Bell, Class of 2020, is a member of both the W.A.R. Lords and the Green Griffins. He is the only Parker student on the FTC team this year and serves as their lead programmer, responsible for writing the code that moves the robots during competition. One of his most important responsibilities is coding the robot's autonomous functions because, in order to compete in FTC, the robot must move autonomously for the first 30 seconds of a match before the driver can take control.
The Green Griffins is a community robotics team supported in part by Parker's robotics program. Unlike Parker's team the W.A.R. Lords, which is an FRC (FIRST Robotics Challenge) team, the Green Griffins is an FTC team and not affiliated with any particular school. In fact, the majority of the Green Griffins' 14 members are home-schooled and might not otherwise have the opportunity to participate in robotics.
Aidan describes FTC as "mini FRC," with a smaller team and smaller robots. Whereas the W.A.R. Lords are 80 strong, the maximum size of an FTC team is 15. The Green Griffins has nearly reached capacity in terms of membership, so another community team called the Cerulean Centaurs is being created to support more students who want to get involved and compete in FTC.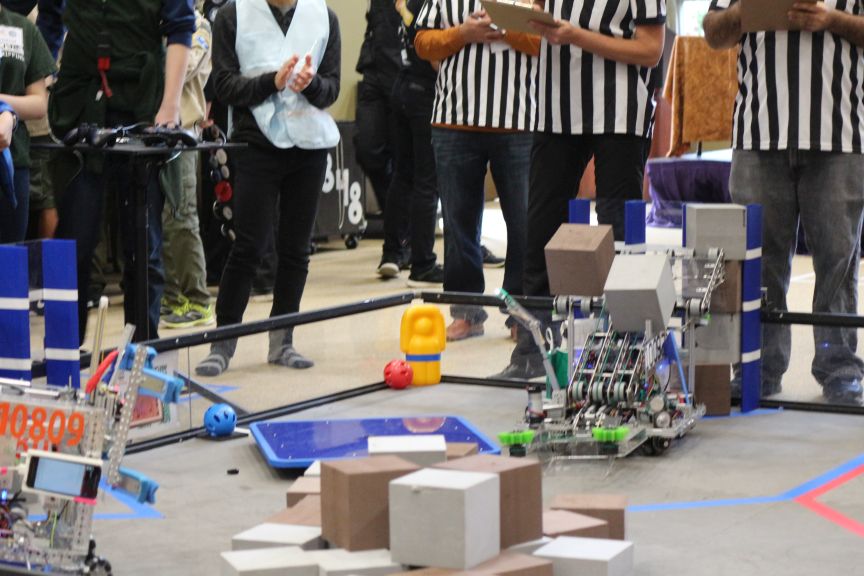 Smaller teams and smaller robots mean less money and fewer resources are needed to sustain an FTC program, and students have greater opportunities to be involved with more aspects of the robotics experience.
"The cool thing about FTC is that you end up doing a lot of different things on the team," says Aidan. "I like the smaller environment and being able to play a bigger role." On top of being lead programmer, Aidan says he helps build the robots too.
FTC also opens up the world of robotics to Middle Schoolers, as it is open to students in Grades 7 through 12.
Ryan Griggs, head faculty mentor for the W.A.R. Lords, is eager to support the FTC program by supporting teams like the Green Griffins.
"Having an FTC-like program accessible to students is important because it connects them with the broader robotics community," says Ryan. "Supporting STEM outreach and events is part of the W.A.R. Lords' mission and gives us an opportunity to be leaders in that space."
The W.A.R. Lords community—students and parents—was out in force on Sunday helping with the FTC competition, and was there Saturday night to set up in advance.
"As hosts, we not only provide a place for FTC competitions to happen, we're supporting the good work of FIRST (For Inspiration and Recognition of Science and Technology)," says Ryan. "The goal in building relationships like these is to put STEM first. We want to help make these life-changing events happen for all students."