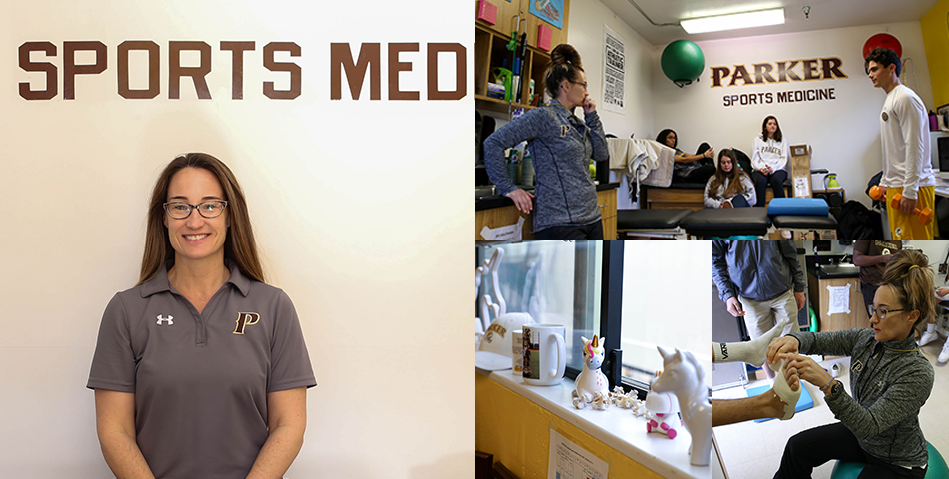 Parker's athletic trainer Niki Dehner was named High School Sports Association's (HSSA) Athletic Trainer of the Year for 2018. She accepted the award in front of family, friends, and colleagues at Marina Village in Mission Bay on Monday, Feb. 4.
"It was nice to be recognized for the time and effort we put into keeping student-athletes safe. Athletic trainers are usually working in the background, so it was great to be recognized," says Niki, who has been a certified athletic trainer for nearly two decades.
Apart from her work as athletic trainer (AT) at Parker, Niki has worked extensively in the athletic training industry in San Diego and California. She is the past-president of the San Diego High School Athletic Trainers' Association and was co-named AT of the Year by the organization in 2016. Under Niki's leadership, Parker was the first high school in San Diego to be awarded the Safe Sports School Award from the National Athletic Trainers' Association, demonstrating it has taken crucial steps to keep its athletes free from injuries. Parker was once again awarded in 2018.
Niki also lobbies in Washington, D.C. each year as part of the California Athletic Trainers' Association to fight for legislation to require AT certifications in California. Currently, California is the only state in the country that does not regulate the profession of athletic training, meaning anyone can practice even if they're not certified.
Niki's passion for athletic training started in high school when she signed up to be a student AT her junior year. What started as a means to meet more of her classmates turned into a career that has taken her across the country and around the world.
She came to San Diego 16 years ago and has since worked with athletes at the high school, collegiate, and professional levels. Before joining the Parker community in 2012, she worked with athletes at San Diego State University, San Diego City College, and San Diego's Olympic Training Center. She also worked with USA Rugby and traveled with teams around the world.
As an athletic trainer, Niki is responsible for the safety of the athletes. This means evaluating, treating, and rehabilitating injuries, and helping to prevent injuries before they happen. Having worked with sports players at nearly every level, Niki says injuries are more common in high school student-athletes than college or professional. Acute injuries occur in an instant, and Niki is waiting on the sidelines as an allied health professional ready to provide emergency care. But high school athletes are also suffering from chronic injuries like tendonitis, which are a sign of overuse.
"High schoolers are doing so much now and their bodies aren't always ready for it. Overtraining and not being aware of what the body is doing yet can lead to injuries," says Niki. Her advice to all of her student-athletes is "listen to your body and pay attention to what it is telling you."
Rest is an essential component of healing—you only heal when you rest, says Niki—but rest can be difficult to find time for as a busy student-athlete. Strength and conditioning also play an important role in a student-athlete's overall training because it increases coordination and leads to greater body awareness.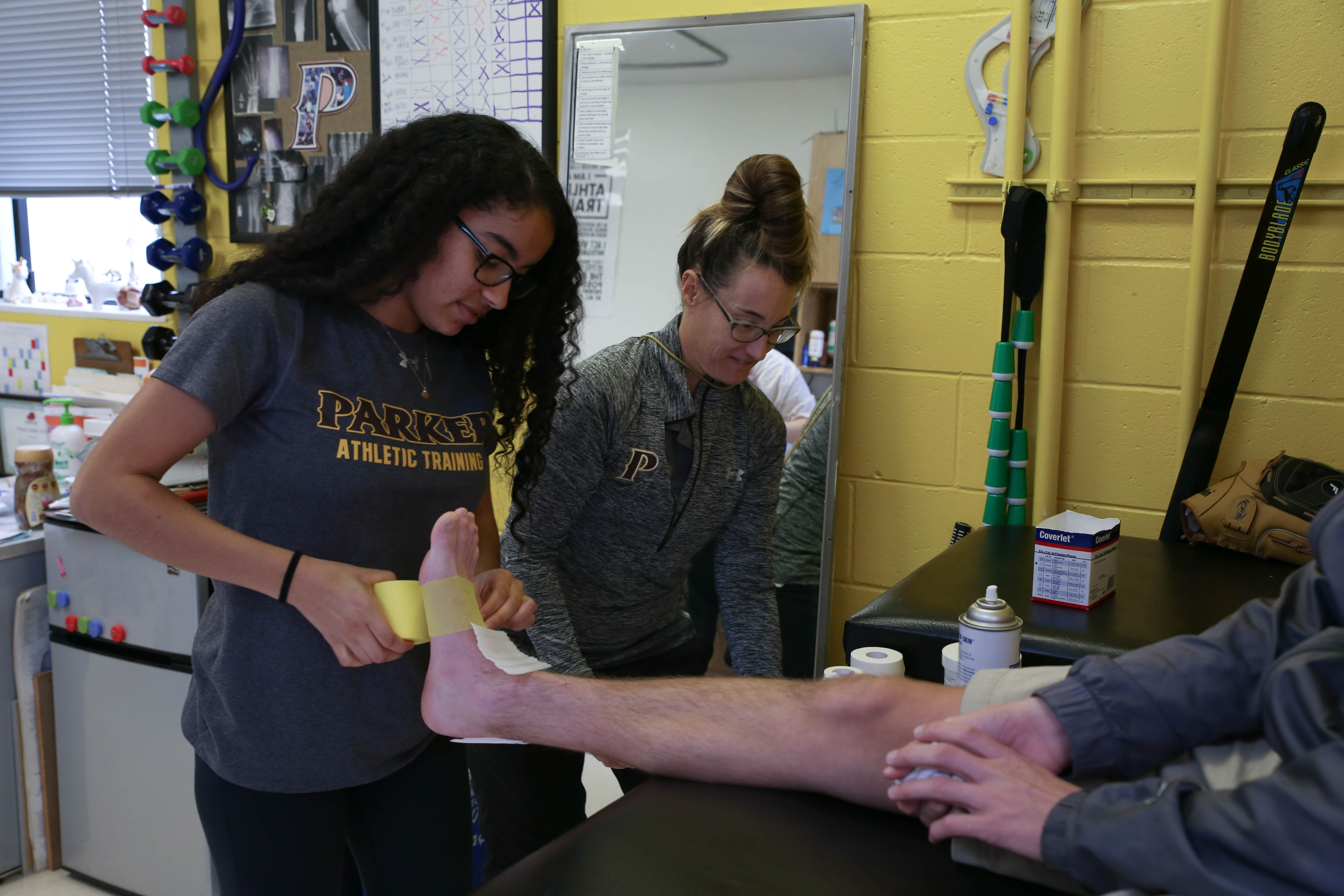 "Understanding is half the battle," says Niki. That is why she explains what she is doing when treating Parker's student-athletes and why she is doing it. "I want to teach the students how to take care of themselves, and hopefully they pick up some nugget of information to take with them down the road."
Her desire to teach led to the development of the student-athlete training program at Parker. During the course, students learn the skills necessary to assist the AT after school with emergency care, taping, anatomy, evaluations, treatment, and rehabilitation of athletic injuries for all sports.
Students can receive a physical education credit as part of the course, and it is a great stepping stone for those interested in pursuing a medical career. In essence, Niki is providing a similar
high school training program to the one that sparked her own interest in athletic training and provided a pathway for a lifelong career.
Working closely with student athletic trainers as a mentor and treating student-athletes on a weekly and daily basis means Niki fosters unique relationships with her students. "I know them differently than anyone on campus," she says. "Having someone the kids can trust—that's the biggest thing. If they trust me, they'll come to me when there's a problem. Without trust, you don't have anything."