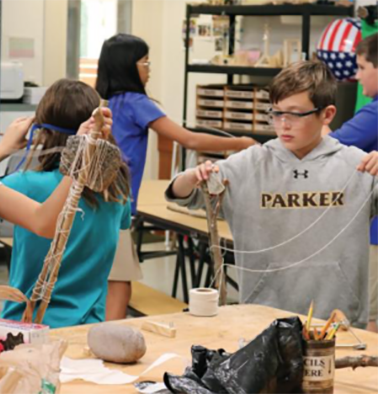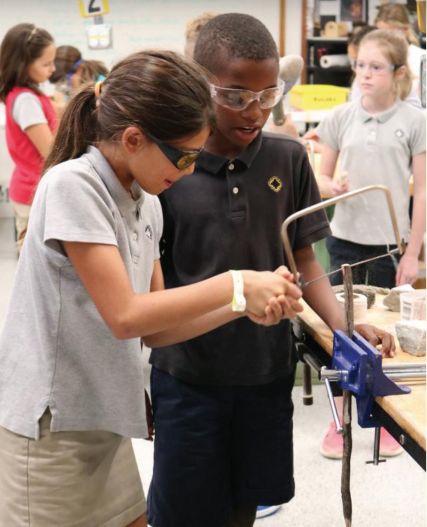 "This project really challenges the students' ability to pivot and rethink a solution to a problem."
There is a sense of urgency in the air as teams of Grade 5 students desperately grab for bamboo sticks, branches, and cordage in the Gooding Family Courtyard. With basic handmade tools, the students work together to use the natural materials to create a survival shelter for their team.
"It looks like rain, boys and girls," says Laurie Brae, Lower School librarian and design teacher. "Will your shelter withstand the largest storm of the century? Make sure your whole team can fit."
Students rush into their shelters to give it a good test. "Good, we all fit," one student notes.
A student on another team spots trouble for a classmate who is injured: "Oh no! Miles's leg can't fit. We'll have to make an extra room for his cast." The team hurries out to make adjustments to the shelter.
Of course, there is no real storm heading for San Diego. The temperature is 75 degrees, and there is nothing but blue sky above Parker. This exercise is part of the Grade 5 Eco Adventures project, in which students learn creative thinking, patience, and teamwork by overcoming unexpected obstacles.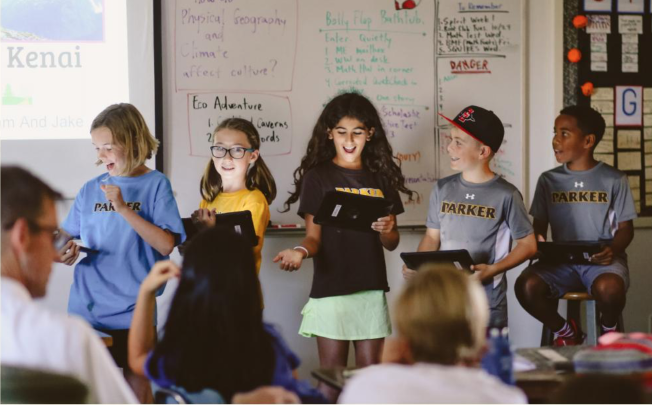 When students gather for lessons related to this project, they all are in the same space physically, but they are asked to imagine themselves somewhere else. Each team envisions a different U.S. national park where their specific survival scenario will take place: Kenai Fjords National Park in Alaska, Bryce Canyon National Park in southern Utah, Hawaii Volcanoes National Park, Dry Tortugas National Park off Florida's Key West, or Carlsbad Caverns National Park in the Chihuahuan Desert of southern New Mexico.
Because the goal of the project is for the students to see how geography, climate, and culture come together, each team studies the terrain, local materials, and other traits that make their national park unique. Knowing the environment well is crucial to success in the survival scenario, which proposes that a natural disaster has trapped them in their park. Supplied with only a survival pack that contains duct tape, trash bags, string, and a sewing kit, each team must determine how to survive using only the additional resources they can find in nature.
The Grade 5 curriculum equips students with special skills to perform well in this kind of situation. They report to the Design Lab to learn how to build shelters with Brae and Letty Robinson. They create tools with Michael Crone in woodshop, they get innovative with trash bags with Margo Sharpe in art, and they make fire with Robin Rendon in science.
These sessions build students' practical toolkit, but the major lessons are working together and communicating effectively to reach a goal.
"The biggest benefit comes from the opportunity to practice collaboration, communication, creative problem- solving, applying concepts in real- world situations, and possibly the most important skill, dealing with frustration," Brae says.
When working in a group, Parker students practice three principles that encourage healthy discussions: there can only be one voice at a time; there are no bad ideas; build on the ideas of others.
The Design Lab shelter-building exercise described in the beginning of this story is a great example. Each team must come up with a plan for a structure using ideas from all of its members. The students then have 20 minutes to bring their designs to life. The constraint of using only materials found around the Parker Lower School stands in for the real-life issue of being able to only use what is in the team's national park.
"We would have loved to have the students build with the resources from their regions," Brae jokes, "but we just can't figure out how to make it snow here."
Each group produces a unique structure, some that successfully stand on their own and others that do not. All the teams learn to work through their obstacles with grace—and to deal maturely with failure. Recognition is given not only for the structural quality of the end result, but also for team values such as politeness and consideration. Students then reflect on what went right and what could have gone better so that they can set goals for improving their shelters the next day.
"My favorite part of the shelter- building exercise is listening to their reflections after the project," says Brae. The students understand that listening respectfully to one another is key to effective collaboration, and they realize that the stickiest problems serve to bring them closer to a solution.
"The Design Lab has allowed the kids to take a real hands-on approach to learning. Students learn that working collaboratively is hard but powerful work.
"I loved the sense of pride the students felt when they overcame challenges," she adds.
The final project for the Grade 5 adventurers is for each group to create and present to their classmates a visitor's brochure for its national park, describing the region and how to survive there.
The Grade 5 classes have been doing the Eco Adventure projects for about a decade, but the Design Lab became part of the endeavor only about three years ago. Its integration has successfully driven home the importance of collective thinking and problem-solving.
"The Design Lab has allowed the kids to take a real hands-on approach to learning," says David Ries, Grade 5 teacher. "Students learn that working collaboratively is hard but powerful work."