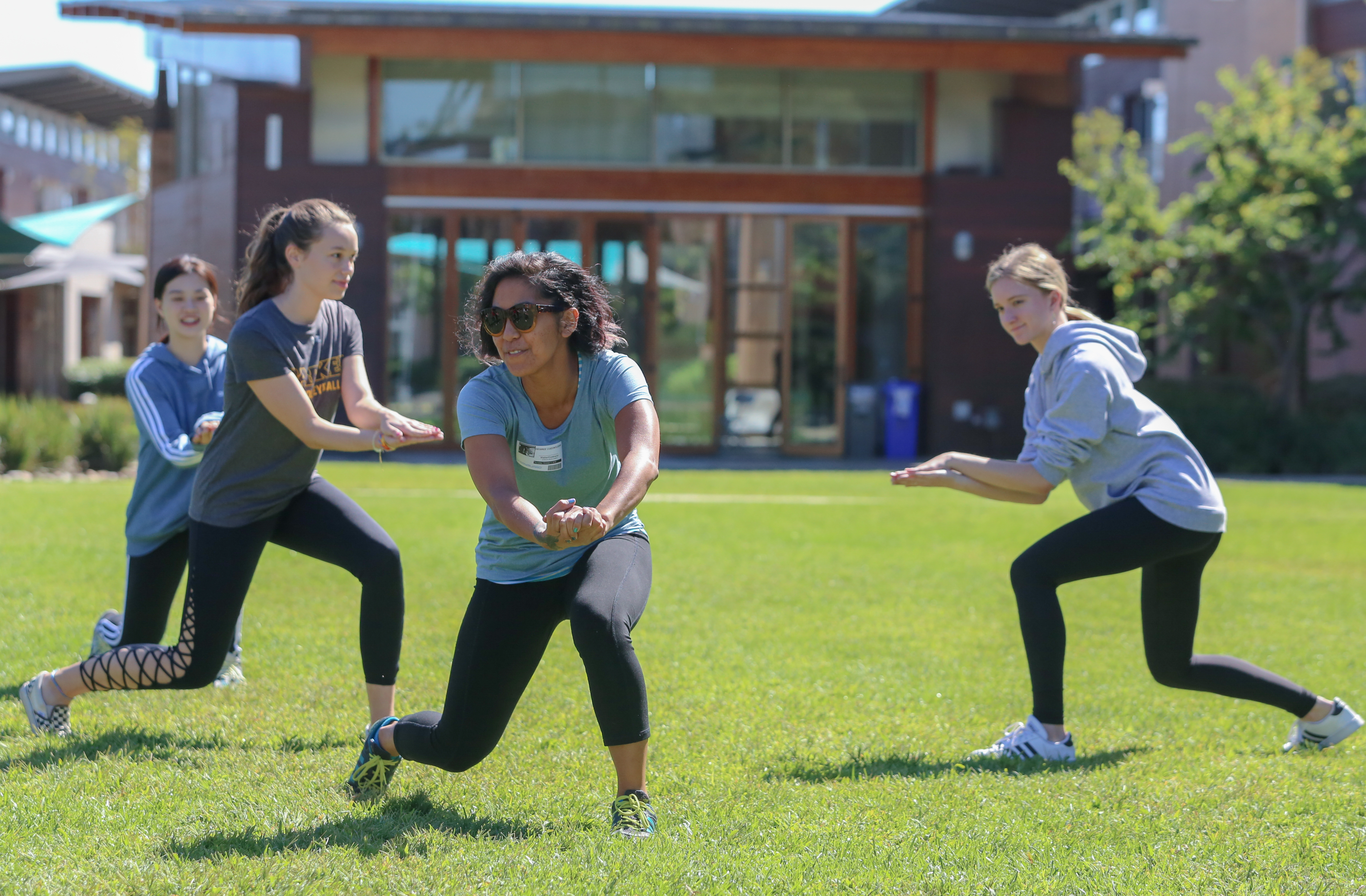 Upper School Dance students experience site-specific dance
By Matthew Piechalak
"When you get stale in your dancing and choreography, take it to a different space and you'll be inspired," says Desiree Cuizon, a guest teacher for the San Diego Dance Theatre. 
Desiree led a site-specific dance workshop for Upper School Dance students on the Lancer Lawn at Parker's Linda Vista Campus on Thursday, Oct. 3. Site-specific dancing entails performing in a unique location–often a public space–with the ever-present challenges of external elements like weather, noise, and space limitations. 
The workshop, one of two held for Parker students, was part of "Kids-On-Board," a program with the San Diego Dance Theatre that coincides with Trolley Dances. 
"Trolley Dances is one of the most well-known site-specific professional dance events in the United States," explains Parker's Middle and Upper School Dance Teacher Erica Buechner. "My goal was for the students to have an experience with a professional dancer to learn about the process of making site-specific work, the process of being a part of Trolley Dances, and to relate the information they learn in class about how to make dances in a unique setting." 
During the session, Desiree led the students in a variety of exercises intended to get them thinking about the benefits–and limitations–of the space around them. She also emphasized the importance of choices including how to begin a performance, audience placement, and having a clear ending to a performance. 
"It's about how you can work with this space," she told the students on the Lancer Lawn. "Take note of the environment. Be mindful." 
After her introduction and warm-ups, Desiree divided the students into two groups and had them chose locations around the quad area to choreograph dances. The students had creative freedom over the moves but needed to factor in things like trees, stairwells, and audience placement. 
"Think about proximity," Desiree told the students. "How near or far do you want the audience to be? Think about how that affects your performance." 
Along with designing dances, the students performed for each other and also spent time debriefing to determine what worked for each site-specific dance and what could have been done differently. 
Ultimately, the goal is to inspire the students and broaden their perspective between what dance typically is, and what it can be, Erica explains.
"I am really happy with the outcome," says Erica. "The students were so energized by the experience and learned a lot. It gave them a better lens for going to see Trolley Dances."