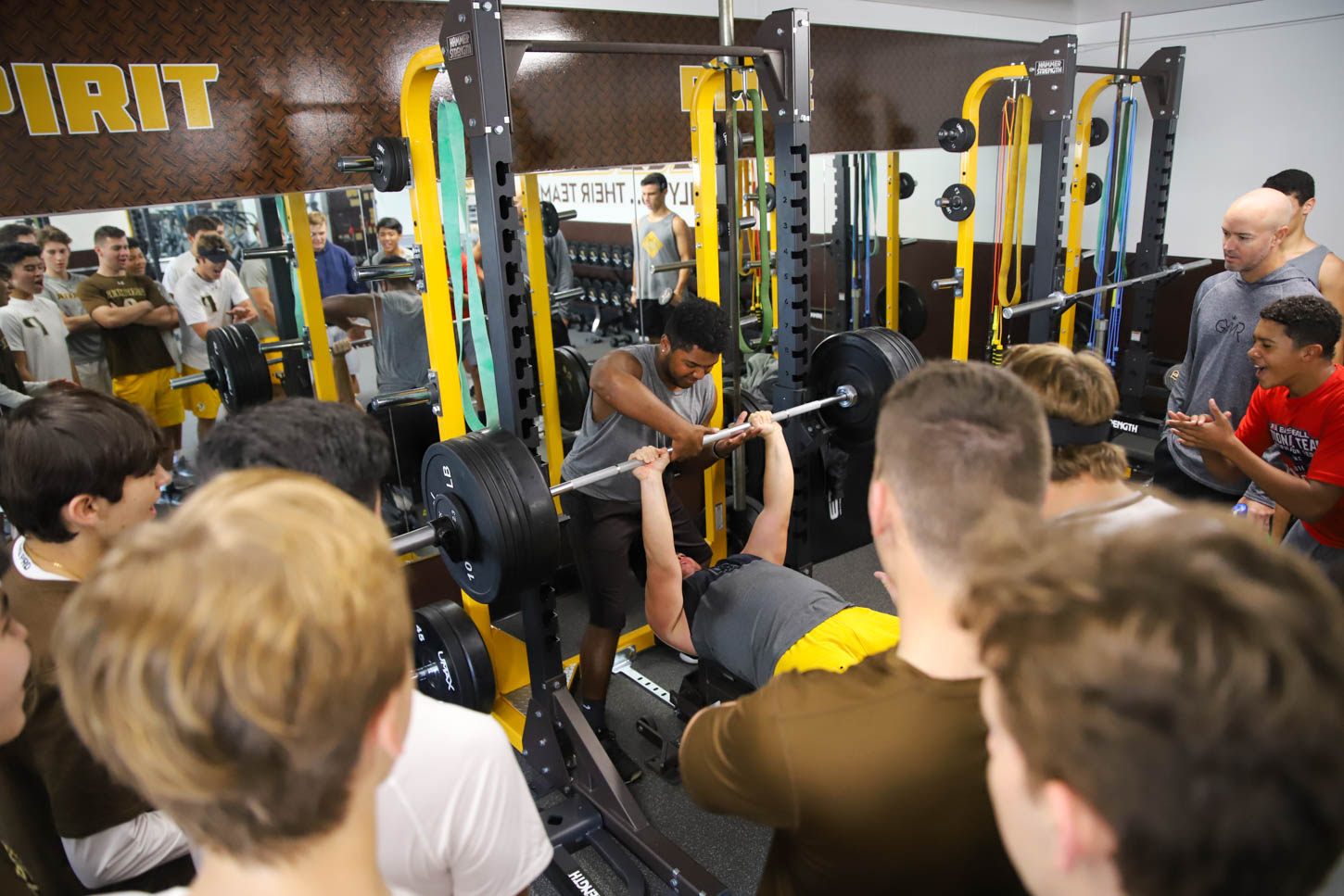 It's a Late Start Wednesday and Parker's Linda Vista Campus is largely void of noise. Except for the echoed clanking of iron plates hitting the ground and the in-and-out sound of music wavering from beyond the open garage doors of Parker's new weight room. Inside, the Parker Football team is hard at work, getting in a weightlifting session as they prepare for the CIF San Diego Division 5 Playoffs. 
Players move enthusiastically around the renovated facility, past motivational wall art with slogans like, "Today's Efforts Pay for Tomorrow's Greatness," "Play with Passion," and "Train with Precision." The new facility officially reopened at Homecoming 2019. The entire renovation project took four months to complete. 
"The space was made up of two separate rooms," says Athletic Director Anthony Thomas. "We took down a couple of walls to make it one big space. This allows for multiple teams to get in there [together] and use the facility." 
The weight room now boasts seven brand new half-rack workout stations, new dumbells and Olympic plates, and an updated design that retained the space's featured slogan, "Our Family vs. Their Team." 
"In order for our kids to compete at the highest level, our strength and conditioning program must be at the center of what we do," Anthony explains. "A consistent program can prevent injuries and [when] student-athletes get bigger, stronger, and faster, that will ultimately lead to better play." 
The foundation of any successful football program is laid during the offseason in the weight room, says Parker Football Head Coach Matt Morrison. 
"For us to be successful on the field, we need our players to be committed to training 12 months a year," Matt says. "Our new weight room gives us a first-class facility that can accommodate having our entire team at one time."  
The new weight room will benefit more than student-athletes–all Middle and Upper School students take some form of physical education. 
"Our new weight room will help to implement and teach more body awareness and strength and coordination, therefore helping to prevent injuries," says Parker Athletic Training Niki Dehner. 
The weight room is a "showcase piece" that demonstrates Parker's commitment to athletics, Anthony says. 
"Prospective students will be able to ascertain our seriousness and commitment to our student-athletes' development." 
"Our new weight room will help to implement and teach more body awareness and strength and coordination, therefore helping to prevent injuries."