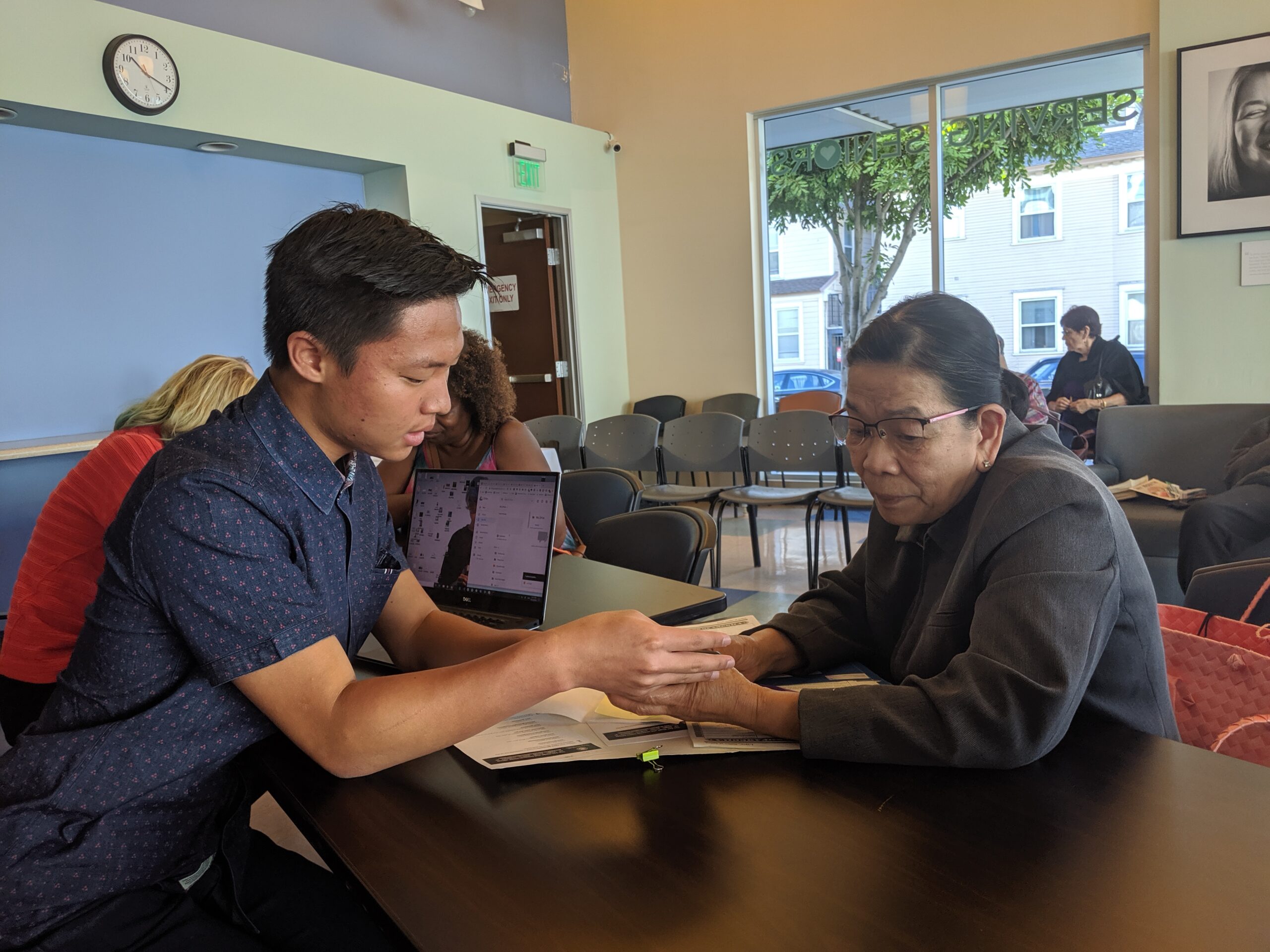 'Tic Tac Tech' club helping senior citizens navigate technology
By Matthew Piechalak | mpiechalak@francisparker.org 
A new, student-run technology club at Parker began like most organizations–by filling a need for a service. 
"We are a group of kids who provide tech support for senior [citizens]," says Brett Kim, Class of 2021. Brett is the president and founder of Tic Tac Tech. 
The goal of the new club is to "provide technological services to senior citizens in their housing units for multiple days a month to help them use their technology the way they want and to prevent them from becoming a victim of fraud." 
I'm discovering that a lot of companies that exist right now are trying to take advantage of seniors," Brett says. "That's troubling because they don't have the technological literacy to understand." 
The club organized earlier this year after Brett learned that the Green Manor Apartments, a low-income housing facility near Parker's Lower School, had reached out to Parker Director of Community Engagement Kevin Dunn. 
"They wanted to know if the school could send someone with a technological background to help fix some of their tech problems," Brett says. "That inspired me to start this tech support group because I felt like there was a need for it. No other school organization was doing that." 
Brett, along with his friends, Caeden Mujahed and Lena Luostarinen, both Class of 2021, established the club. They currently have nine members. 
"The club is important because it combines an authentic need with our students' talents," explains Kevin. "They are putting others' needs first and acting selflessly." 
"The club is important because it combines an authentic need with our students' talents. They are putting others' needs first and acting selflessly." 
Tic Tac Tech has current partnerships with local organizations like the San Diego-based Serving Seniors and the Linda Vista Town Council.
"Many seniors are not tech-savvy," says Timothy Ruis, director of activities and volunteers for Serving Seniors. "This [club] helps them overcome much of their fear of technology. Many receive gifts or purchase tech items with just the basic knowledge of use." 
Timothy says he plans to have the members of Tic Tac Tech return after the holidays to continue to aid seniors with their newly-received devices. 
Along with troubleshooting smart devices, Brett says that the group has come across other needs, including one senior who wanted to start a YouTube channel about historical events, another who needed assistance navigating a convoluted immigration website, and another individual who was trying to backup more than 40,000 photographs. 
"You never know what you're going to get," Brett says. "It's fun to see the wide range of technological problems people have.
The club is currently working with the Linda Vista Town Council, a partnership that began when town council president John Nielson asked the School if students could help with their newsletter.
"The council wanted a revamp of their media, in general," Brett says. "We met with them and it turns out, they were really in need of a website, too. We're trying to make an engaging site for them." 
Moving forward, Tic Tac Tech plans to expand their reach locally, while also continuing the relationships they have made. 
"I love that everyone in the group is super committed to helping seniors," Brett says. "Through helping them, I'm learning that seniors live really fulfilling and interesting lives."