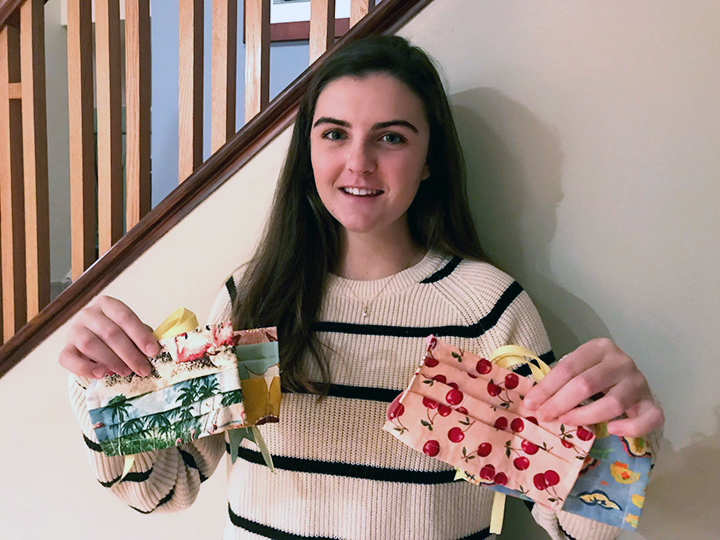 Caylin Schnoor, Class of 2021, crafting fabric masks to encourage people to donate 
By Matthew Piechalak | mpiechalak@francisparker.org 
When her mom took out the sewing equipment to make fabric facemasks for the family, it gave Caylin Schnoor an idea. 
"It just kind of sparked," says Caylin, Class of 2021. "I knew I wanted to find a way to help as many people as possible during this troublesome time. I have copious amounts of fabric that allow me to do good, so how could I not take that opportunity?" 
Last week, Caylin began making hand-crafted masks for those in her community. Essentially, the masks are free; all she is asking is that if you want one, first you make a minimum donation of $10 to a charity of your choice through her "One for One Charity." 
"Face masks help prevent the spread and contraction of COVID-19, and the CDC recommends that you wear one anytime you are in public," she states in the information promoted on social media. "At One for One Charity, we're asking you to help us help others."  
Caylin's initial goal was to rally people to raise $1000 for local and national charities. As of Saturday, she is up to $1,300 and has since updated her goal to $2,000.  
Those interested in a mask should first make a minimum donation of $10 to a charity of their choice. Then, email her at caylin.schnoor@gmail.com with proof that you have donated in the past 24 hours. 
Caylin will leave orders on her front porch for pickup, in order to avoid unnecessary contact. The masks are made with 100 percent cotton, with a foil nose insert and elastic to go over your ears or tie behind your head.