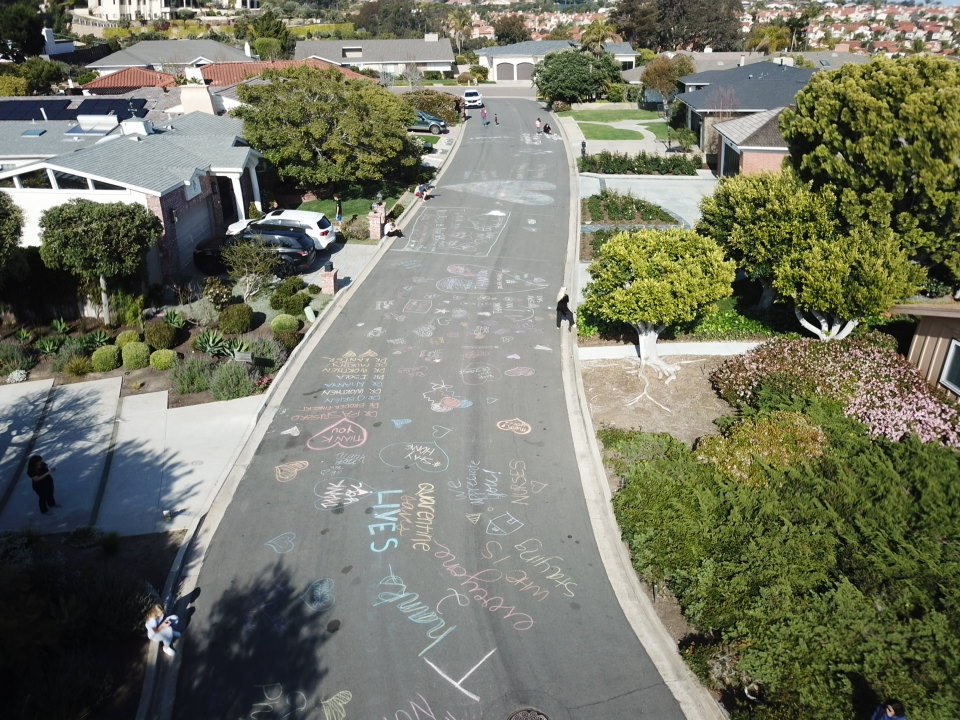 By Matthew Piechalak | mpiechalak@francisparker.org 
Parker alumna Lauren Hirsh '93 was looking for a way that her family and neighbors could show their gratitude for the doctors and nurses tirelessly working to combat the COVID-19 global pandemic. 
So on the afternoon of Friday, April 3, they met at the front of their driveways along Via Corona in La Jolla and began creating large-scale chalk art. The result was an impressively colorful tapestry of drawings and positive messages. 
"That morning, I reached out to my neighbors and asked if they would be interested in meeting in front of our driveways after school to write notes of gratitude, draw hearts, and positive messages to the medical community," says Lauren, whose husband, Dr. Peter Pastuszko, is a surgeon at Mount Sinai in New York City.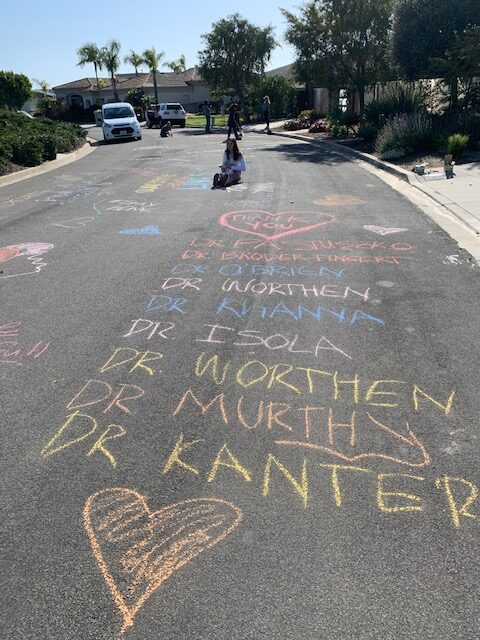 "It's safer to share [digital] pictures than to send cards in the mail. I thought this would be a fun, collective way to do it." 
Roughly 10 families along the block contributed to the project. 
"I think the project simply showed me how little effort it took to bring together the community to show how much we appreciate those risking their lives during this crazy time," says Lauren's daughter, Ellie Lenzen, Class of 2024. "Even the little things can show the doctors, nurses, and medical professionals out there that we thank them and value their work more than ever right now."
The neighbors all took photos of the street art and shared them on social media and with the medical providers in their lives.
"We have many friends in the medical community all over the country who are fighting battles and getting up every morning to go to work, while we all have the privilege of staying home, in our PJs and with the opportunity to walk outside," she says. 
The street art was featured on the local TV news and as the Picture of the Week in the La Jolla Light. The San Diego Police Department also chose it as the winner of their chalk art contest. 
"I didn't even know it was a contest when I shared the picture on Nextdoor," Lauren says. "We won SDPD Lego police cars and we donated them to The Polinsky Children's Center."