Grade 8 advisories take a virtual field trip to the Museum of Tolerance 
By Matthew Piechalak | mpiechalak@francisparker.org 
When you cannot go to the museum, bring the museum to you. 
On Monday, Grade 8 students in their advisory class joined tour guides online for a virtual field trip to the Museum of Tolerance, a multimedia museum in Los Angeles that examines racism and prejudice around the world.
During the COVID-19 pandemic, the museum is offering schools four interactive field trips: "Anne Frank: A Fascinating Look at the Real Anne," "Holocaust History Session: Youth Voices and Resistance," "Tolerancenter: Contemporary Lessons," and "Combat Hate!"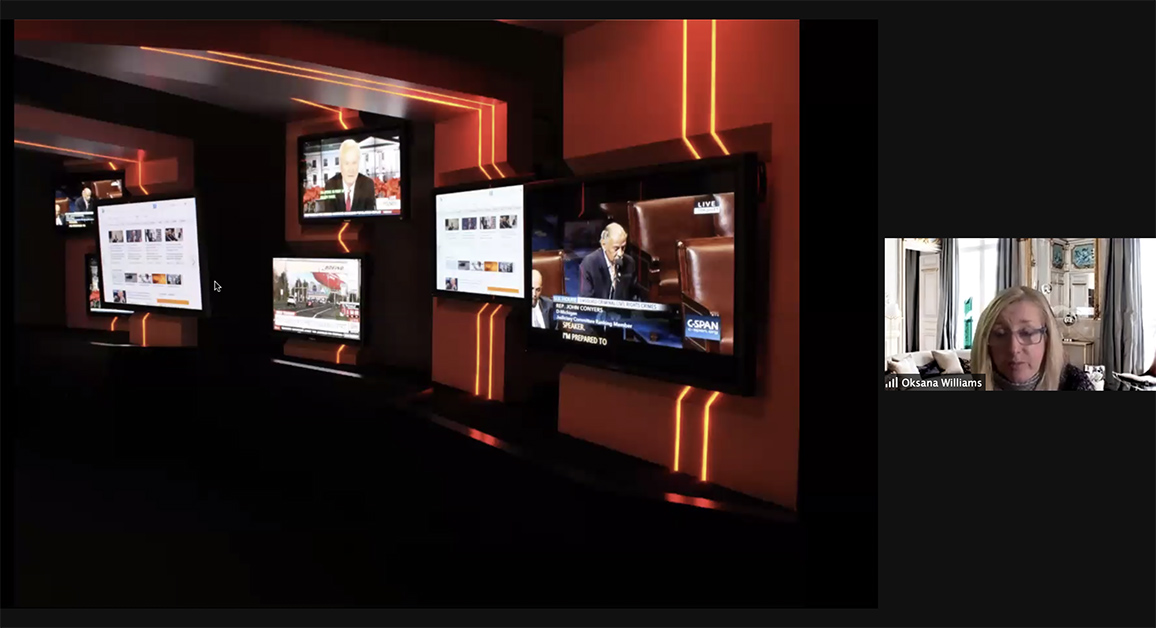 Parker students engaged in the exhibit, "Tolerancecenter," which focuses on the major issues of intolerance that are part of daily life.
According to the museum's website, the session is "designed to draw connections from history to current events and to spark personal reflection on how to create the changes we seek. Conversation will focus on the impact of hate and hate crimes, media literacy, and personal responsibility."
"All of us have prejudices because we are human and that is normal," says Oksana Williams, an education specialist and museum coordinator. "But, we are here in the museum so we can work on it."
Annually, Grade 8 students take a field trip to the museum after they finish reading "Night" by Elie Wiesel, a first-person account of life in Nazi concentration camps during World War II. It's an important opportunity for students to connect their learning.
This year, the field trip needed to be reimagined.
Since students are currently participating in Parker Online, all students logged into Zoom to virtually visit the museum. Advisories divided into four groups with each assigned a museum representative.
Oksana, who led the presentation for Jeremy Howard and Jason Leonard's advisories, began the field trip by asking the students to write their own definition of "discrimination" in the chat box.
"Favoring one group over another," was one student response. "Different treatment for different groups of people, race, gender, etc.," was another.
What is "tolerance?" She asked as a follow-up.
"Accepting people for what they are," one student wrote.
The field trip included images, videos, and other multimedia taken from the museum's interactive exhibits and examined themes including dynamics of discrimination, personal responsibility and democracy and diversity.
"Overall, I think that it was an experience that gave perspective, and helped provide empathy for different minorities/groups from around the world," says Charlotte Dumbrell, Class of 2025. "We addressed the impact of words which I thought was important because we're students who are maturing each day, and need to learn those values. I also liked our discussion on prejudiced/unprejudiced opinions, and how members of our student body felt about it."
"It was really interesting to be able to learn about the history of intolerance and prejudice," says Ruby Adler, Class of 2025. "It was unsettling to be shown multiple examples of widespread bigotry of such a large degree, and how they took place not long ago. However, it was also inspiring to see how far we have come in just sixty, seventy years. I'm glad that even though we couldn't physically go to the museum, we could still have this virtual experience."
"I thought the virtual field trip was very informative," says Avondre Kelley, Class of 2025. "I was able to learn about tolerance and prejudice. I learned about the prejudice that Latinos faced in California during the Twentieth Century. The prejudice and inequality African  Americans faced less than seventy years ago and still face to this day. The power one's words possess and how they can inspire hope and change or incite fear and aggression. I think we should have more of these virtual field trips, I loved how interactive the whole thing was and how there was many opportunities to voice our opinions and answer questions." 
The Museum of Tolerance, built in 1993, is an educational arm of the Simon Wiesenthal Center.