'Windows, Mirrors, and Coffee' book club providing Parker parents space for important discussions
Story and photos by Matthew Piechalak | mpiechalak@francisparker.org
It's a Wednesday evening in mid-November, and Parker parents are gathering online for the inaugural meeting of the "Windows, Mirrors, and Coffee" (WMC) book club. Established by Associate Director of Diversity, Equity, Inclusion, and Belonging (DEIB) at Lower School Veronica Scott and Lower School Culturally Responsive Literacy Specialist Rebecca Bellingham, the club aims to connect parents from diverse backgrounds through shared experiences and conversations.
A quick glance at the virtual grid reveals both similarities and differences between the participants. By the end of the first meeting, all involved agree they have a deeper appreciation for both the commonalities they share and the differences that make them unique and beautiful.
"Windows and Mirrors" is a phrase coined by educator Rudine Sims Bishops. It was chosen as the book club's moniker with the belief that children—and their parents— need exposure to books that provide windows into the diverse experiences of other people, times, and places; as well as mirrors that honor and reflect their own lived experiences.
They are experiencing the power of children's literature and understanding how to use it to begin big conversations on race and identity with their kids," explains Rebecca.
The subject of the first gathering is Renée Watson's "Way to Make Sunshine," a children's novel about middle-schooler Ryan Hart, an African American girl adjusting to life as an early adolescent.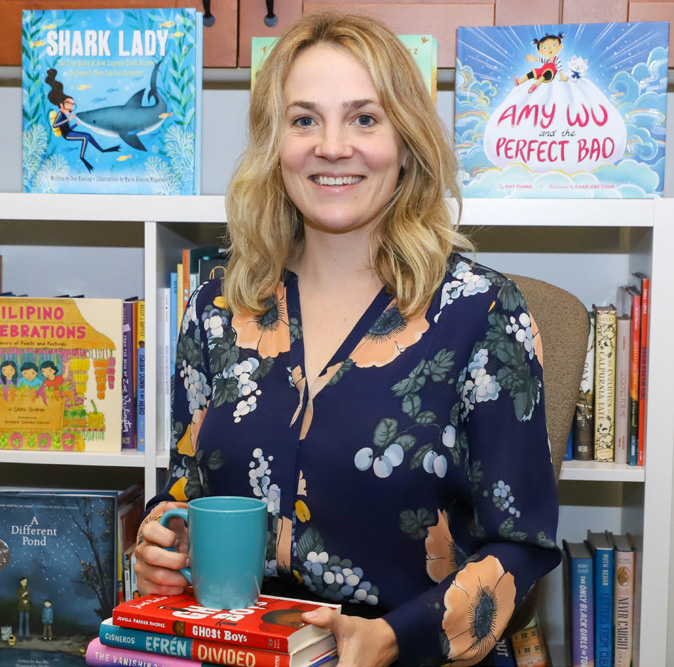 "We started the book club as a way to connect with Lower School parents and families around issues of DEIB and also nourish our community through powerful stories and conversations," says Rebecca. "'Ways to Make Sunshine' was a standout book for me last summer—I read it aloud to my kids and it was such a special experience. It seemed like the perfect book to launch our WMC book club."
Club goals include providing Parker parents with the opportunity to learn ways to support their children's reading lives, engage and connect with children through stories, and create a space for courageous conversations about diversity, equity, inclusion, and belonging.
"We choose the books intentionally to reflect diverse stories and identities— and to reflect the growing body of work by contemporary authors who are writing about important issues and themes in our civic life, our national life, and even our global life," Rebecca says.
The opening meeting of the club begins with an icebreaker. Each club member introduces themselves by providing their preferred gender pronouns, who their children are at Parker, and their favorite comfort food. It's a low-stakes opportunity for participants to find commonalities and also to share what makes them unique.
To jump-start the conversation about "Ways to Make Sunshine," Veronica asks participants to complete a simple exercise: write in the chat whether they saw the book as a window or a mirror. The answers come across quickly. Window. Mirror. Mirror. Window. Window.
Everyone has an answer, and as the conversation starts, many of the club members begin to realize that the book actually serves a dual purpose as both a window and a mirror.
"We would laugh out loud because there are so many moments between Ryan and her mother that were just like us," says one mother who read the book with her daughter. "But it was also a window because we learned about the struggles she has with her hair."
"For me, it was both," says another parent. "I can relate to the family. We have so many things, as human beings, in common. I really enjoyed this book."
Parent Voltaire Sterling joined the book club because he believes it's imperative that parents continue their own education on their culture— as well as that of others—so that humanity can continue important work to eradicate systemic racism. "The club's efforts align with my own in terms of lessons that I try to impart on my children every day—listen to, learn from, and share with others so that we may all grow and be better toward one another," Voltaire says, adding that he thought the first meeting was phenomenal. "There was open, unguarded sharing," Voltaire says.
"There were new insights gleaned—from the hosts and from one other regarding our respective experiences."
"The first meeting was a total success," says parent Julia Cain, who joined the book club to feel part of something bigger at Parker and to connect with other parents. "I am also personally working on opening myself to others' life experiences and looking inward into mine," Julia says. "The windows and mirrors theme was very enticing, and Veronica and Rebecca are a perfect team for intertwining DEIB and literature. Even over Zoom, we were able to have a lively conversation."
Along with both open discussion and small group discussion (where participants were placed into "breakout rooms" on Zoom), the first meeting also featured a read aloud from Rebecca. She quickly pointed out that reading aloud benefits all readers, regardless of age.
"The read aloud continues to nourish kids' reading lives like nothing else," she told the participants. "When we take away print work, it frees kids to focus on powerful thinking. I invite you to listen and pay attention to what you notice, feel, and wonder. Watch the ways that your mind and heart come alive."
She slowly reads a short section from the novel featuring a conversation between Ryan and her grandmother as the participants listen.
"I love the notion of older people speaking life into kids," Voltaire says as the discussion resumes following the read aloud. "I love this woman telling her granddaughter that you are beautiful and true beauty is a real thing."
The club holds special significance for parents who identify as BIPOC (Black, Indigenous, and people of color), many of whom are seeing themselves represented in children's literature for the first time, Veronica explains.
"They have their own experiences that are really unique and reading themselves in a book for the first time is powerful," she says. "I see the joy on their faces when they say, 'this food feels like food I ate as a kid' or 'this verse reads like my language'."
Throughout the 2020-21 school year, the club met bi-monthly and continued to grow its membership with each session.
Parker parent Elizabeth Yu recently joined to learn about book recommendations written by and featuring diverse protagonists for her daughter, a Grade 3 student.
"This is a wonderful addition to Parker," Elizabeth says. "Rebecca and Veronica are so thoughtful in their moderation of the book club—from the discussion questions posed to the group activities—I have been so happy to participate in the rich discussion, share thoughts, and hear other perspectives."
Next school year, WMC will officially invite parents of Middle and Upper School students to join the club. It will be the same concept, but content will be differentiated for parents of older students and include more pop culture and age-specific resources.
"Parents of younger kids are still thinking about how they can support their kids in their reading lives, versus parents of older students who are looking to connect with their kids," Rebecca says.
Reflecting back on its first year, both Veronica and Rebecca agree that WMC has been hugely successful.
"We've learned so much from each other, which I have found to be really moving and meaningful," Rebecca says.
"I was impressed from Day One with the conversation flow," Veronica says. "Now, we have to actually stop because we keep going over time. I'm amazed at the connection between everyone. We've created a really tight-knit community."
"It speaks to the power of story—these books are beautifully written and tell stories of peoples' lives that are true, honest, and impactful. These books will help us ask better questions of ourselves as readers, parents, and members of a community."