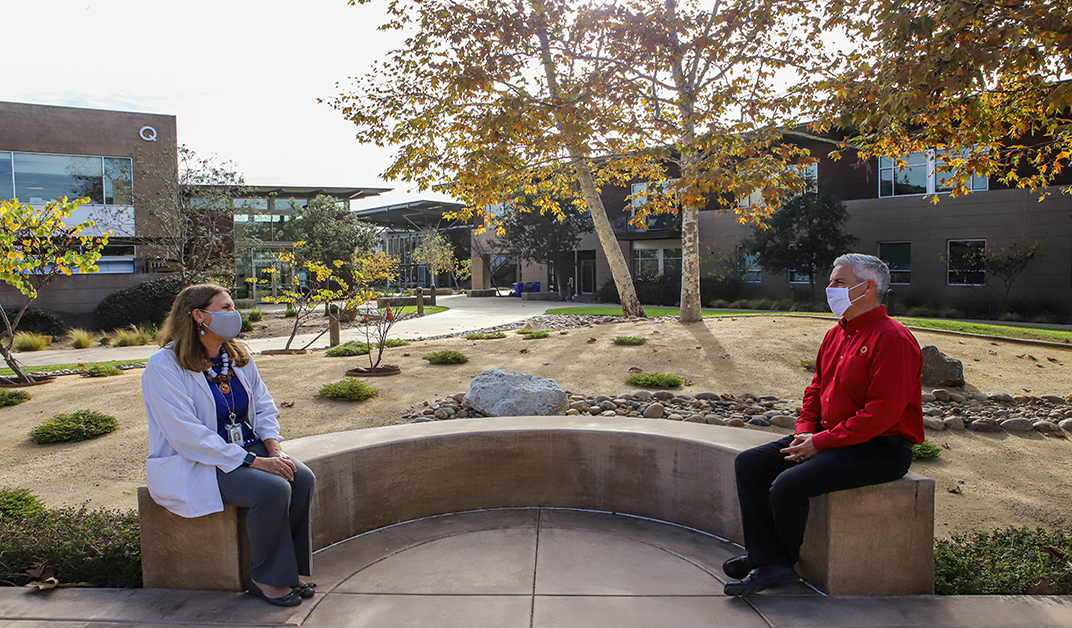 Story and photos by Matthew Piechalak | mpiechalak@francisparker.org
Mike?" Maggie West asks Mike Cain with a curious smile. "What do you call a pony with a cough?" She pauses momentarily for dramatic effect, then answers. "A little hoarse!" She yells and begins to crack up at her health-related joke. Through the Zoom grid, Mike laughs back.
Maggie is Parker's credentialed School Nurse and Mike is Parker's Director of Asset and Risk Management. Together, they create a dynamic duo responsible for overseeing the health and safety of the School community. Don't let the humor fool you, though––they take their jobs seriously, and have been working tirelessly this year to keep Parker safe amid the ongoing COVID-19 pandemic.
It's Nov. 4, and the pair are about to lead another installment of what has come to be affectionately known as "The Mike and Maggie Show." The moniker has been used—loosely—to refer to any health and safety meeting the two have led since the onset of the pandemic. Today, they are hosting a portion of a Grade 6-12 professional development session.
The pair move seamlessly back and forth, fielding questions from Parker faculty and staff on health screenings, guidance for upcoming holiday travel, and a plethora of other concerns. With every query, they each know whether it's in their wheelhouse, or if they should defer to the other. "We almost speak the same language, which can be a little scary," says Maggie, when reflecting on her partnership with Mike. "But we understand what is going on."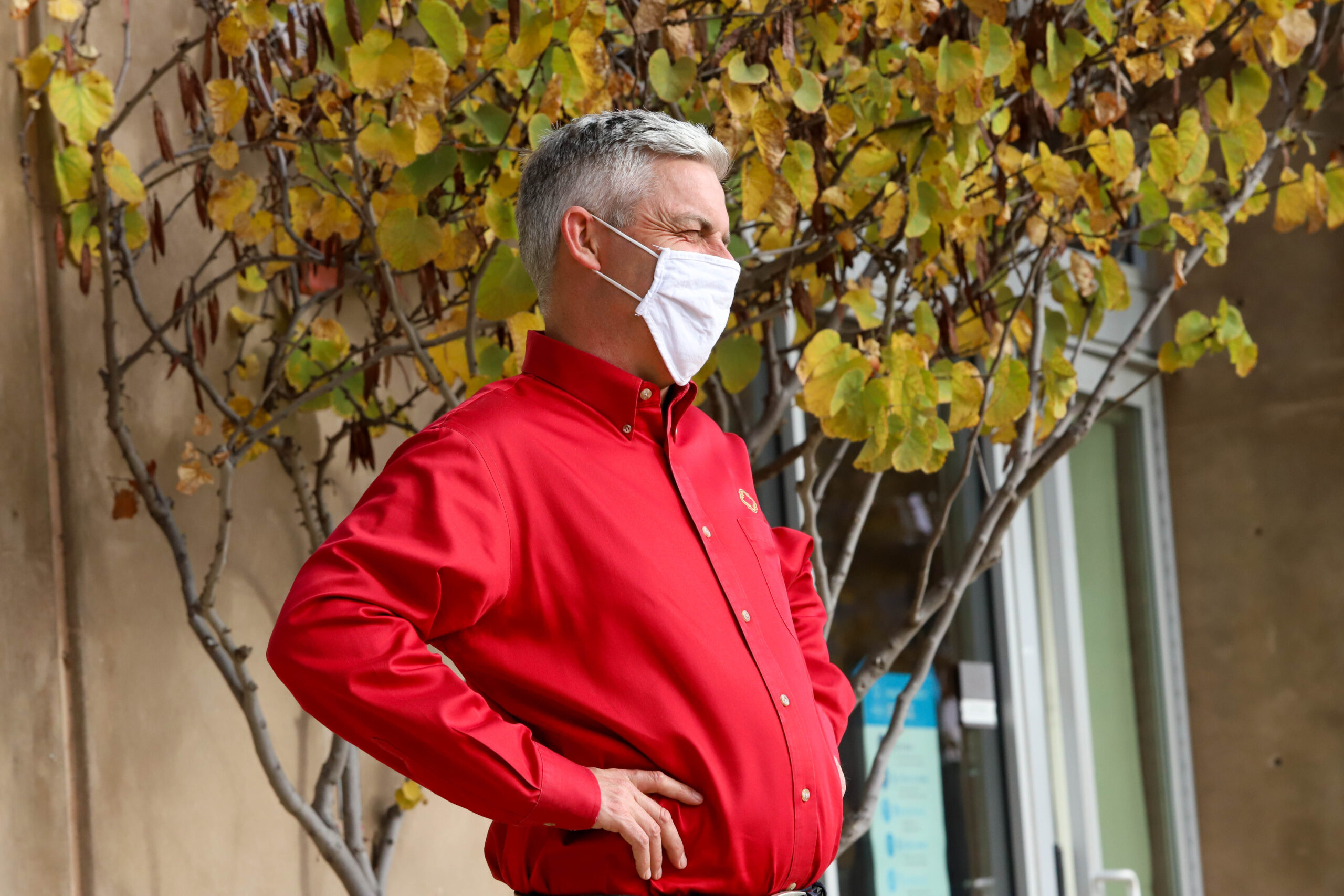 COMING TO PARKER
Maggie, known around campus as "Nurse Maggie," came to Parker in August 2012 after spending nearly 20 years as a school nurse in the Scottsdale Unified School District and also as a health educator at Scottsdale Healthcare Hospital in Arizona.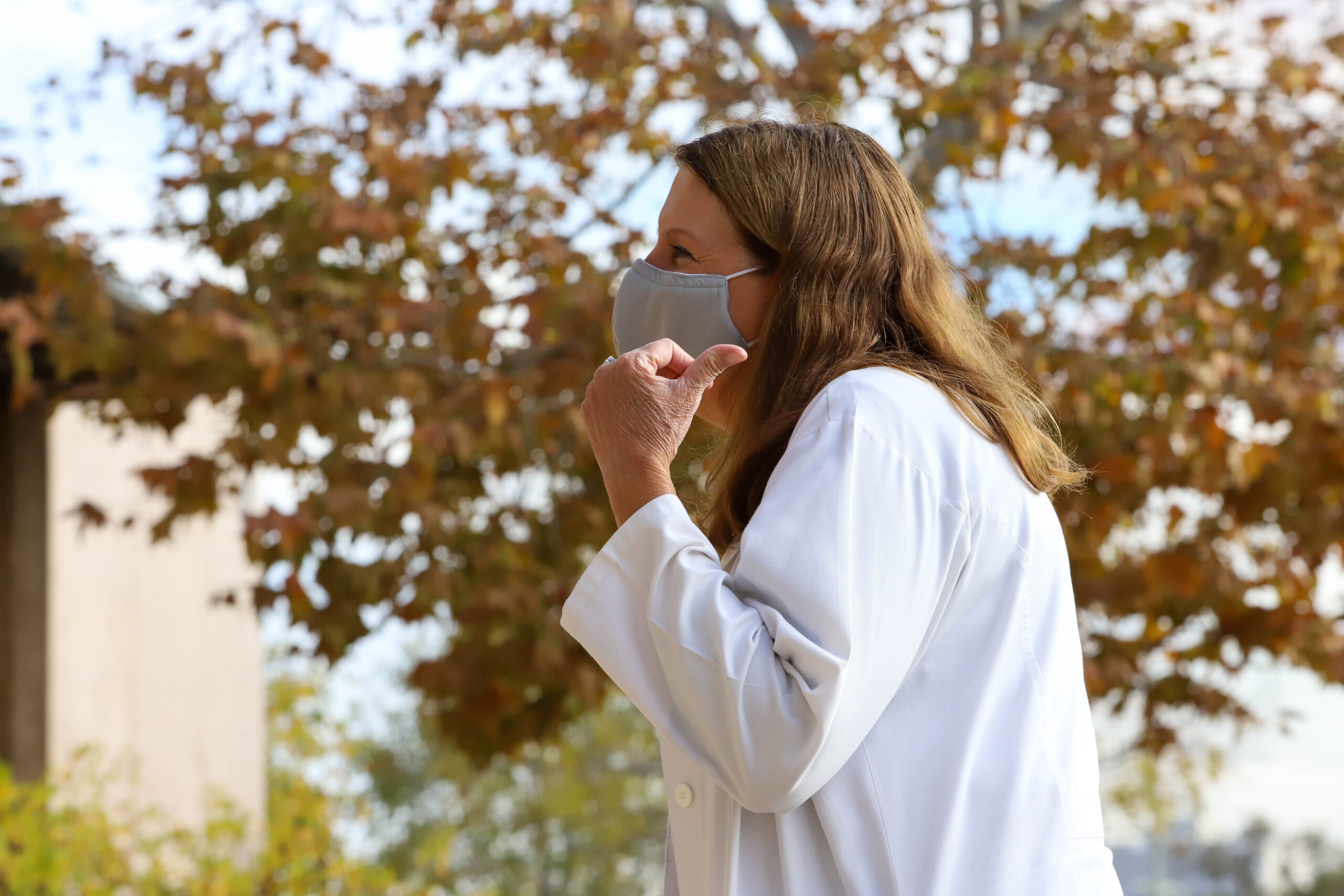 Interestingly, and almost unbelievably, she is the first school nurse in Parker's rich history. Previously, the job was the duty of division secretaries. "Prior to me, Parker, for about a hundred years, never had a registered nurse," Maggie says. "So, when I came here, I got to create the job, which was really fun and a little scary."
Maggie's daily responsibilities run the gamut of health-related tasks, from injury and illness care, making community referrals, calling parents, and conducting vision and hearing assessments, to teaching a multitude of classes across divisions. Annually, she teaches Lower School students lessons on disaster preparedness, nutrition, and safety; Middle School students life skills; and Upper School students human growth and development. Additionally, she teaches CPR and First Aid to faculty, staff, and students. "My job is to take care of the healthcare needs of the students, staff, and faculty, and to assist in their educational process," Maggie says.
Mike came to Parker 17 months later, in January 2014, as a certified facilities manager (CFM). His responsibilities for the School include safety, security, sustainability, and capital projects. His title, director of risk and asset management, really breaks down into two components, he says. "'Risk management' is the physical risk to people who work at and attend our school, and 'assets' are the physical assets of our campuses," Mike explains.
Prior to joining Parker, Mike worked in corporate real estate, construction management, and facilities management.
PRE-PANDEMIC RESPONSIBILITIES
Pre-pandemic, Mike and Maggie only met a couple of times per month. "We met about disaster preparedness and other things we had identified as a need for safety, but we never met with the frequency that we do now," says Maggie. "Our work typically fell on the academic calendar with a lot of emphasis around conducting drills and following up on different initiatives within the Safety Committee," Mike says.
"We were all fairly new to the School and just having those conversations helped," Mike says.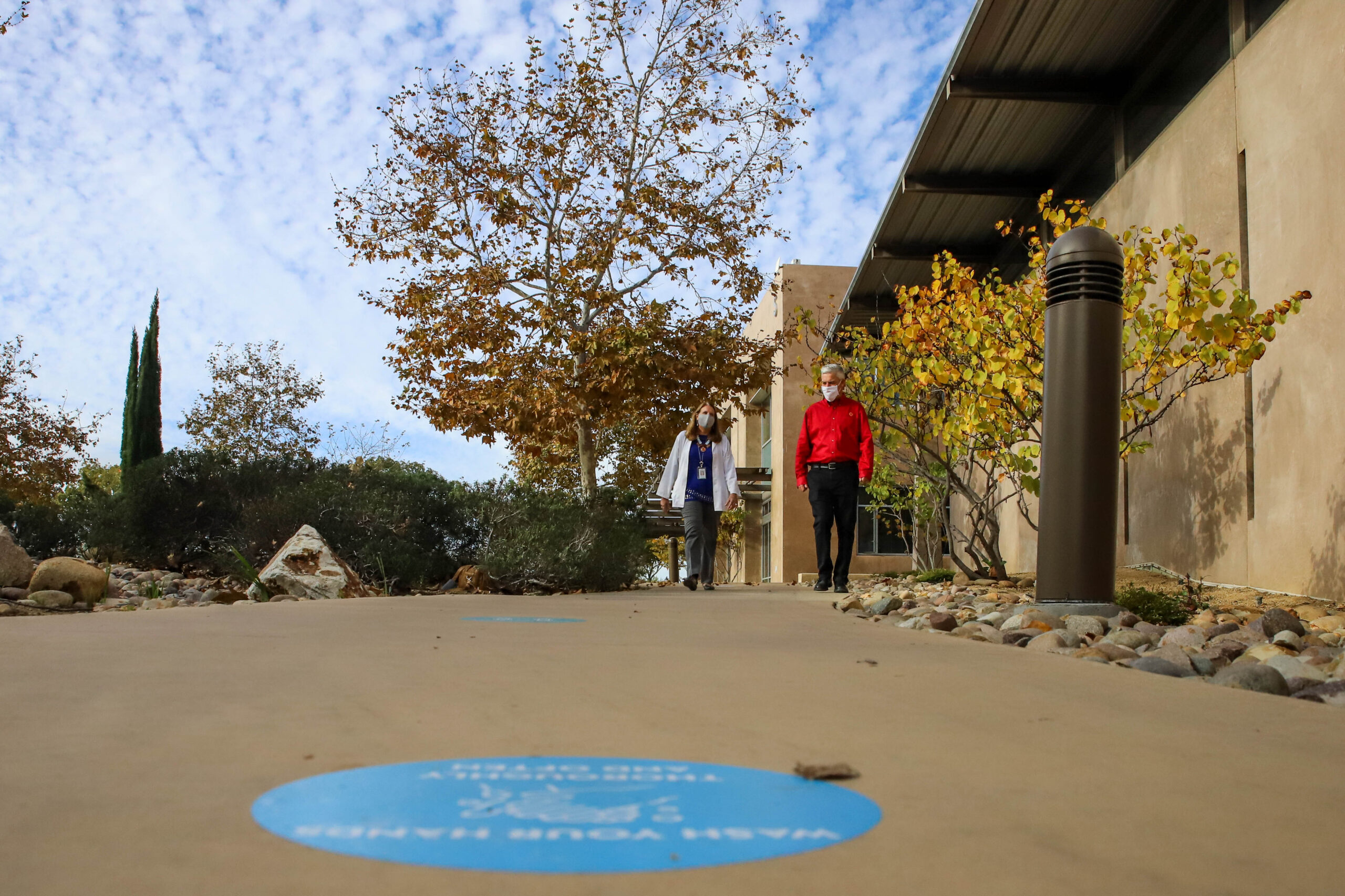 "There is magic that happens when you have somebody like myself that knows the physical space, and you cross that with someone who has a true understanding of health like Maggie, and you cross that with someone who understands mental health like Dr. B. We were very prepared for whatever emergency the School would have. Other employees should take comfort in knowing that there are people who are responsible for that and take it very seriously."
A PROFESSIONAL SHIFT
The arrival of the pandemic did not come as a surprise to Mike or Maggie, both of whom had been carefully following research published in real-time as the novel coronavirus spread throughout Asia, Europe, and eventually found a foothold in Southern California. However, it did quickly shift the pair's focus. Current initiatives were placed on hold, or as Mike describes, "everything was frozen in time."
"On March 17 when the stay-at-home order came, the School implemented it's incident command," Mike explains. "Under that, [Head of School] Kevin Yaley became incident commander, and on April 1, Kevin put me in charge of COVID-19 operations. I was put in charge of leading the effort to get us back to campus safely."
Mike's first move was to call Maggie. "We knew that school nurses were going to be talking about this, and Maggie is a big influencer in the school nursing community at our state level," Mike says. "I knew we had a winner in Maggie."
The two began talking to each other multiple times per day and sharing documents containing COVID-19 theories from scientific journals and other publications. "There was a big exchange of materials because we were on this huge learning curve and quite frankly, we still are," Maggie says. "The nursing community went global. We networked a lot. It was an interesting learning experience and one I never thought I'd have in my career."
Of particular interest—and importance—to Mike and Maggie was the empirical data and approach of educational institutions like the Singapore American School. "They were six months ahead of us with the virus," Mike says.
"I took their FAQ, which had 99 questions and answers, and we went through them all and decided how it would cross over to the US. They had tried to go back to school and failed. So we wanted to look at why they failed."
Ultimately, the goal was to find a framework that would allow for a safe return to school, which included finding safe and effective ways to mitigate the spread of germs by disinfecting the physical spaces on campus, as well as finding a method for individuals to self-monitor their own health.
After exhaustive research, Mike was able to work to bring emocha to Parker. The application has allowed students, faculty, and staff to monitor their health through daily symptom and temperate checks. The data is used to help mitigate the potential spread of the virus on campus, Maggie says. "Parker is one of just a handful of schools who initiated using this technology," Maggie says. "It really has helped stop the spread of all disease. This time last year, I was up to my eyeballs in influenza [cases]. Not this year because people are wearing face coverings, they are washing their hands, they're physically distancing, and they are not coming to school sick."
"It's fascinating," she adds. "What we are doing, these universal precautions are working. They are evidence-based practices and they are what's best for our community."
A TEAM EFFORT
Despite a turbulent year, looking back, Mike and Maggie say their confidence level always remained high because of those around them on Parker's Roadmap to Return to Campus Task Force.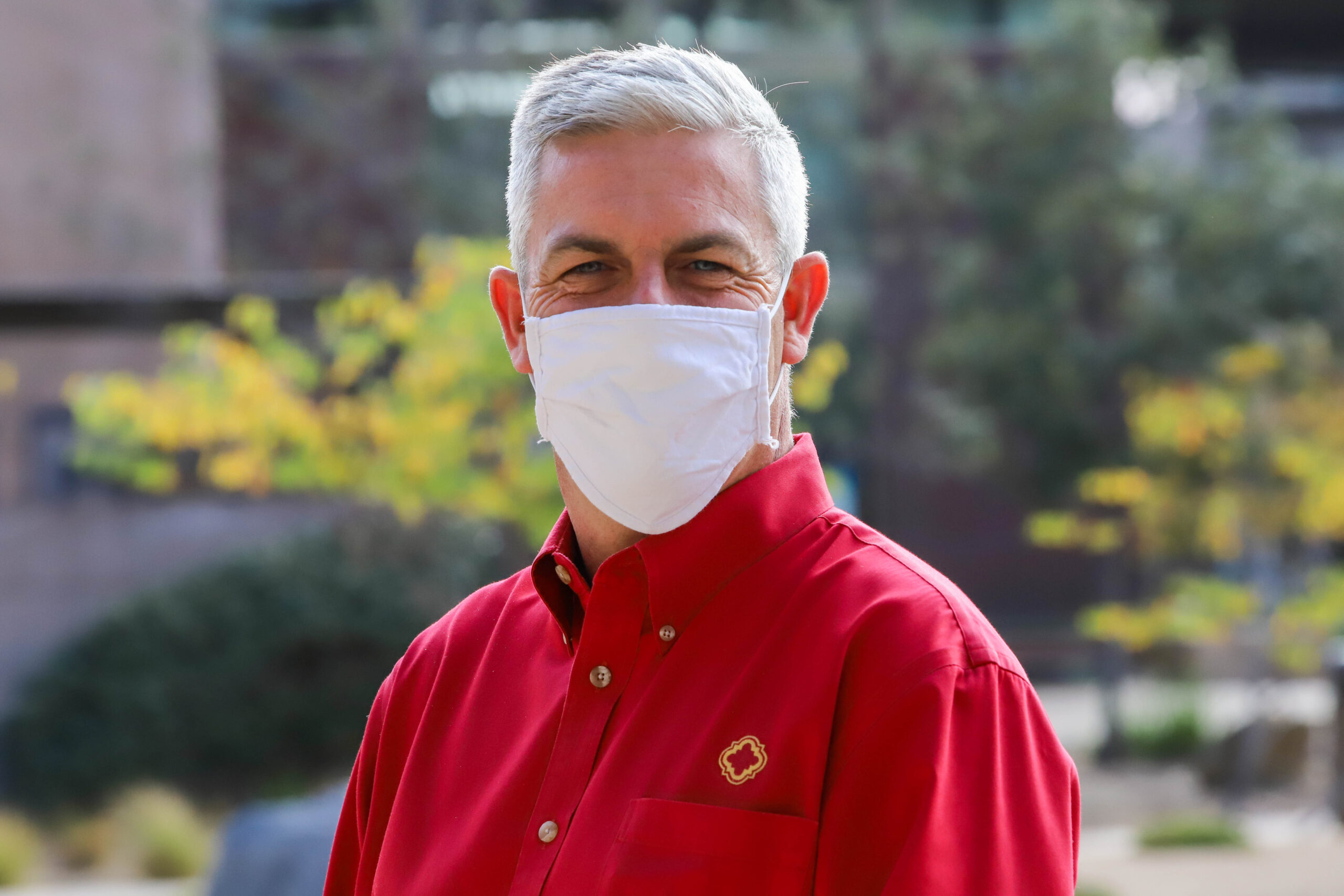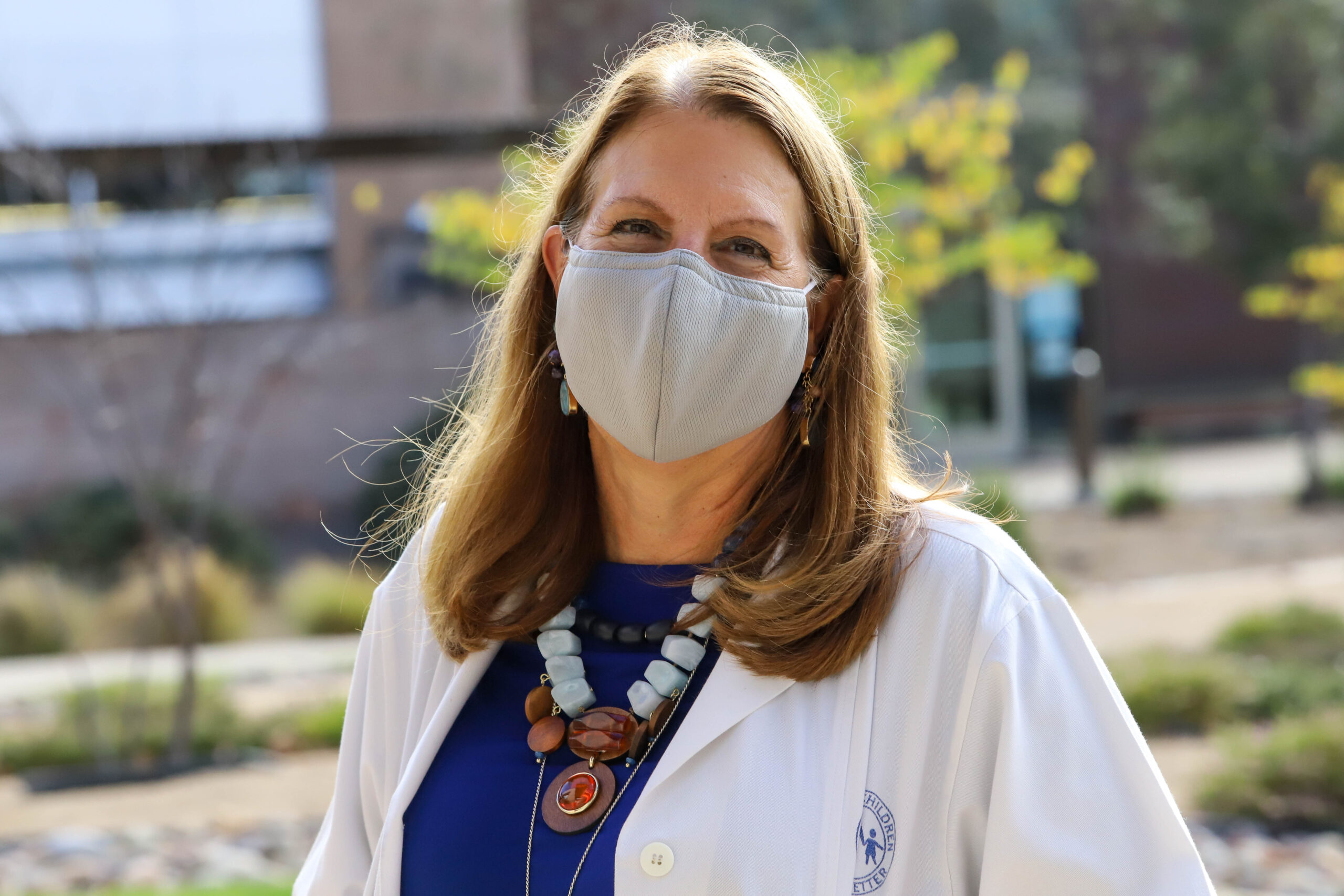 "We can joke around about it, but this is not the 'Mike and Maggie Show,'" says Mike.
There are professions that, if done correctly, never find the limelight. Certainly, health and safety professionals fall into that category. Which explains why the pair are so quick to deflect credit for Parker's approach to the pandemic.
"We might be the two faces, but when you talk about Bridgett and [Clinical Counselor] Monique [Muther], when you talk about [Athletic Trainer] Niki Dehner, when you talk about Joseph [Castillo] and the security team, they are all about keeping the kids safe," Mike says. "It cannot only be up to Maggie and me. It needs to happen with a lot of coordination, a lot of teamwork, a lot of communication. We have to give credit to a great many other people."
FINDING PERSPECTIVE AMID THE CHAOS
"I'm just Hydrogen Peroxide Man to you," Mike jokingly tells Maggie, a reference to the mild disinfectant the School adopted and that Mike trained faculty and staff to implement prior to returning to campus this fall.
"You're Super Hydrogen Peroxide Man!" Maggie quips back.
Spend a few minutes around them and you get a true sense of how vital their growing friendship and shared love of humor has been in mitigating the daily stressors of their professional lives leading Parker through uncharted territory.
"I'm almost on the verge of tears because Maggie makes me laugh so hard and I also think it's great because I can get so wrapped around the axle sometimes," Mike says. "I'm really frustrated most of the time, and if that's all it was, no one wants to be around that guy. What Maggie does is she unwinds me from that axle."
"I call him my little brother," Maggie says. "We get along extraordinarily well. We seem to be on the same wavelength and we find humor in what we do occasionally. I think if you didn't find humor in this, it would just be overwhelming."
The humor has created a shared perspective that has kept Mike and Maggie going during this difficult time, but the pair say they look forward to a time when they can continue to grow their friendship that has been fostered during a truly unprecedented time.
"We've gotten to know each other really well," Mike says. "I know what issues Maggie holds dear to her heart and vice versa. I could not have handpicked a better person to partner with."