The School's obligation to maintain a safe and secure environment is a top priority and applies equally to our IT security. Cybersecurity issues are prevalent in today's world and the most common way for unwelcome content or solicitations to enter our network is through email. Our spam filters and anti-virus programs are very robust and we have a high level of protection against unwelcome content. For example, lewd or offensive pictures and hate speech are blocked by our firewalls. We also have policies and protocols in place for protecting our community against unwelcome, harassing or obscene content.  For example, lower school students can only be contacted via email by others within the Parker community (teachers or fellow students). In Grade 6 or higher, our technology teachers train students on digital citizenship, as well as what to do in the unlikely event that they receive spam or other unwelcome emails to their inbox.
As a reminder to our community, there are things to look for and do in order to help enhance your cybersecurity:
Do not click on links or attachments in the message from senders that you do not recognize.

Do not provide any sensitive information (usernames, passwords, social security number) over email. The technology department will never ask you for your passwords; they don't need it to access your account.

Read the name of every sender in your email box.  A legitimate Francis Parker School email address has to end in "

francisparker.org

". Watch for email senders that unfamiliar, or that use suspicious or misleading names.

Be careful not to open attachments or to click links when you receive an email containing a warning banner indicating that it came from an external source.
If you can't tell if an email is authentic or legitimate, please do not open it and instead, click the "Report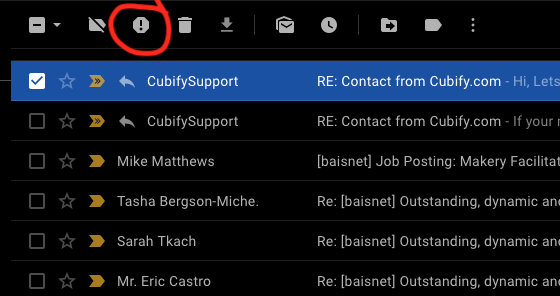 Spam" button as shown below:
This email will be immediately sent to your spam folder.  If preferred, you can send it to Parker's Director of Technology so that he can review it before you open it, and he can let you know whether or not it is spam.  
Thank you for helping to keep our community safe from cyber threats and related misconduct. If you have any questions or concerns about cybersecurity, please contact Quoc Vo, Director of Technology by email to [email protected] or by phone at 858 / 569-7900 x 4130.