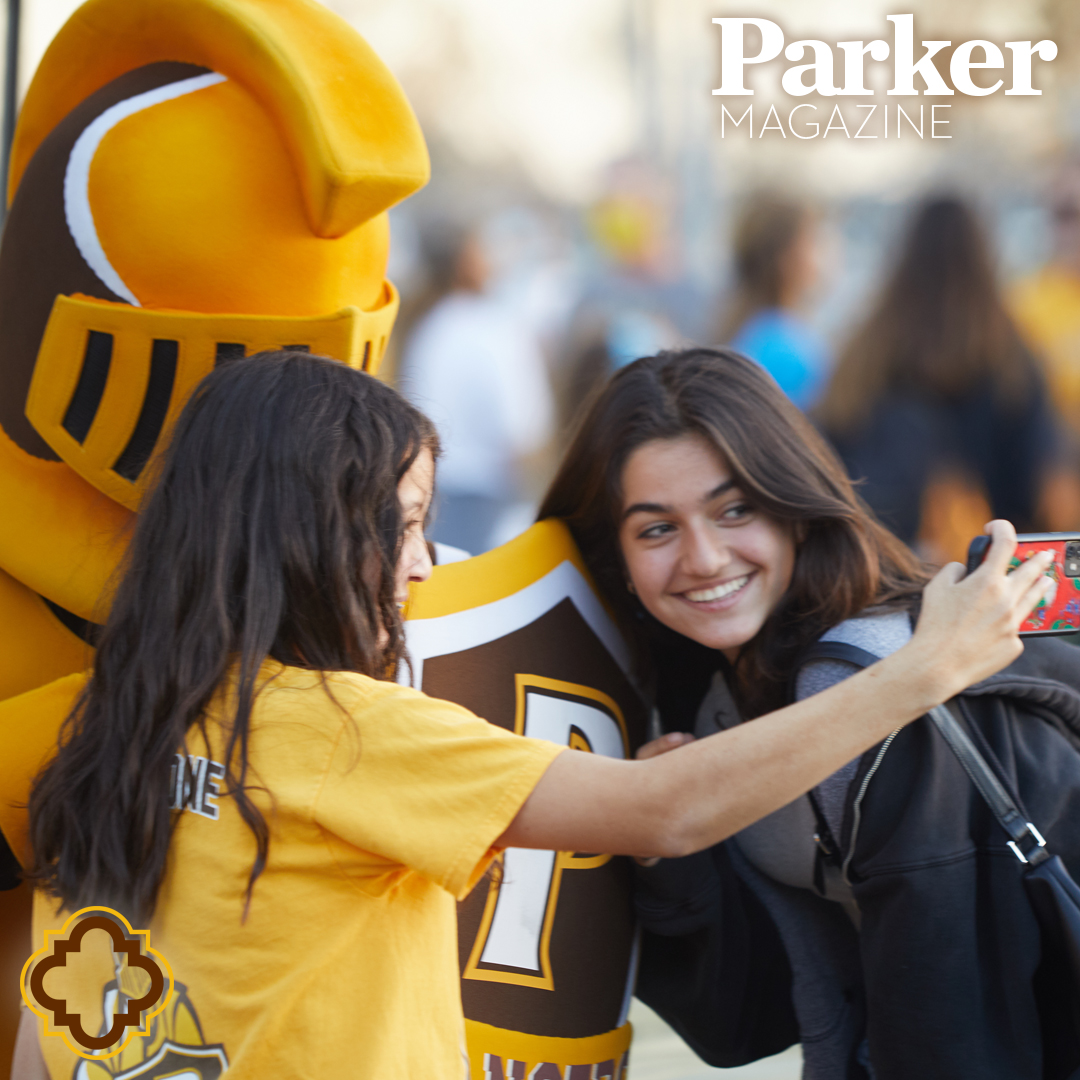 This column was originally published in the Fall issue of Parker Magazine. 
By Ethan Kassar, Class of 2023
It's 7pm on a Friday evening and Parker students are filing into the home stands at Lauer Field. It is early evening, and as anyone who has been to a home football game knows, there is an abundance of pinkish-red clouds in the sky as the autumn sun slowly sets. Fans are still talking about the delicious churros when the National Anthem starts to play and they go from talking to singing along. For the first time since 2019, the stands are filled with fans to watch a Parker football game in person.
In March 2019, many aspects of life were moved to a virtual platform, but sports simply came to a halt. Finally, in Spring of 2021, student-athletes were able to resume the thing they loved most: competing. While the return of sports at Parker was a win, there were still limitations: masks had to be worn, players had to undergo weekly COVID-19 tests, and fans were unable to attend the games. As a result, most athletes were not able to invite their friends and family to cheer them on from the sidelines.
For the first time, athletes were expected to perform to the best of their athletic ability without the support and energy of fans in the stands. Thankfully, teammates stepped up and cheered for each other.
"It was honestly kind of eerie; the place where you normally have parents and friends cheering you on all of a sudden got super quiet," says multi-sport athlete Chris Williams, Class of 2023. While athletes are used to playing with lots of noise, they had to quickly adjust to this "eerie" new playing field. It was difficult. "Without an audience, it was pretty terrible," says Girls Volleyball Captain Delaney Wilson, Class of 2022. "Volleyball is super momentum-driven and just a clap or two can determine the outcome of a game."
While all sports suffered from a lack of visible support, cheerleading was hit particularly hard. With no one in the stands to aid in the cheering, cheerleaders carried that responsibility alone. Cheerleading Team Co-Captain Alexandria Fennell, Class of 2022, recounts the challenges of cheering to empty bleachers. "It was really hard to keep up energy, because it felt pointless. It felt like we weren't appreciated, there was no one cheering with us. We were carrying the noise on the field," says Alexandria.
Human beings are built to be social, and when those opportunities are disrupted, even for good reasons, it can be hard, explains Parker School Psychologist and Dean of Student Support Services Bridgett Besinger, Ph.D.
"We are not built to be in isolation and especially for a high school, to lose out on a big chunk of what we do as a community, it can take its toll," she says.
For student-athletes, sports is a big part of their unique identity, and having peer and family support is crucial to validation, Bridgett says.
"Identity development is the most important task of adolescence and for athletes, not having fans in the crowd, not having their parents or friends come and watch them can really take a toll because that is an important part of who they are and how people see them," she says. "Attending games and cheering on friends isn't just important for school spirit. If you are a student-athlete, having people come and support you and acknowledge that part of your identity is really important."
Now that things have returned to a new normal, fans have been able to return to games and Parker athletes are so thankful. The athletic department kicked off the fall season with Parker Palooza, where both football and volleyball dominated The Meadows School. "The best part of having fans back is just knowing that people are there to support you and that the energy is completely restored in the Field House," says Delaney.
Everyone has their favorite cheer, but across the board, the best is bragging about our beloved freshmen. "My favorite cheer is 'he's a freshman,' when a freshman in the water scores. That's the best thing you can say," says Boys Water Polo player, Landon Bell, Class of 2022.
Now that fans are able to watch their friends and family play, we should be filling the stands for every game. Go out and cheer for the Lancers! Whether it is a Friday night football game at home, or a water polo tournament in La Jolla, stand up and bask in the glow of our Parker pride.