Visiting poet Elizabeth Acevedo highlights five-day celebration
By Matthew Piechalak | [email protected] 
The Middle School students gathered in Lawrence Commons rise to their feet in unison and begin to follow the instructions of their guest teacher, Elizabeth Acevedo, the New York Times bestselling author of "The Poet X" and "With the Fire on High." 
"Plant your feet proudly," she directs them. 
"Pull your shoulders back–that lets the audience know you are confident. 
"You make sure you are heard." 
And with that, Elizabeth calls up the first volunteer poet.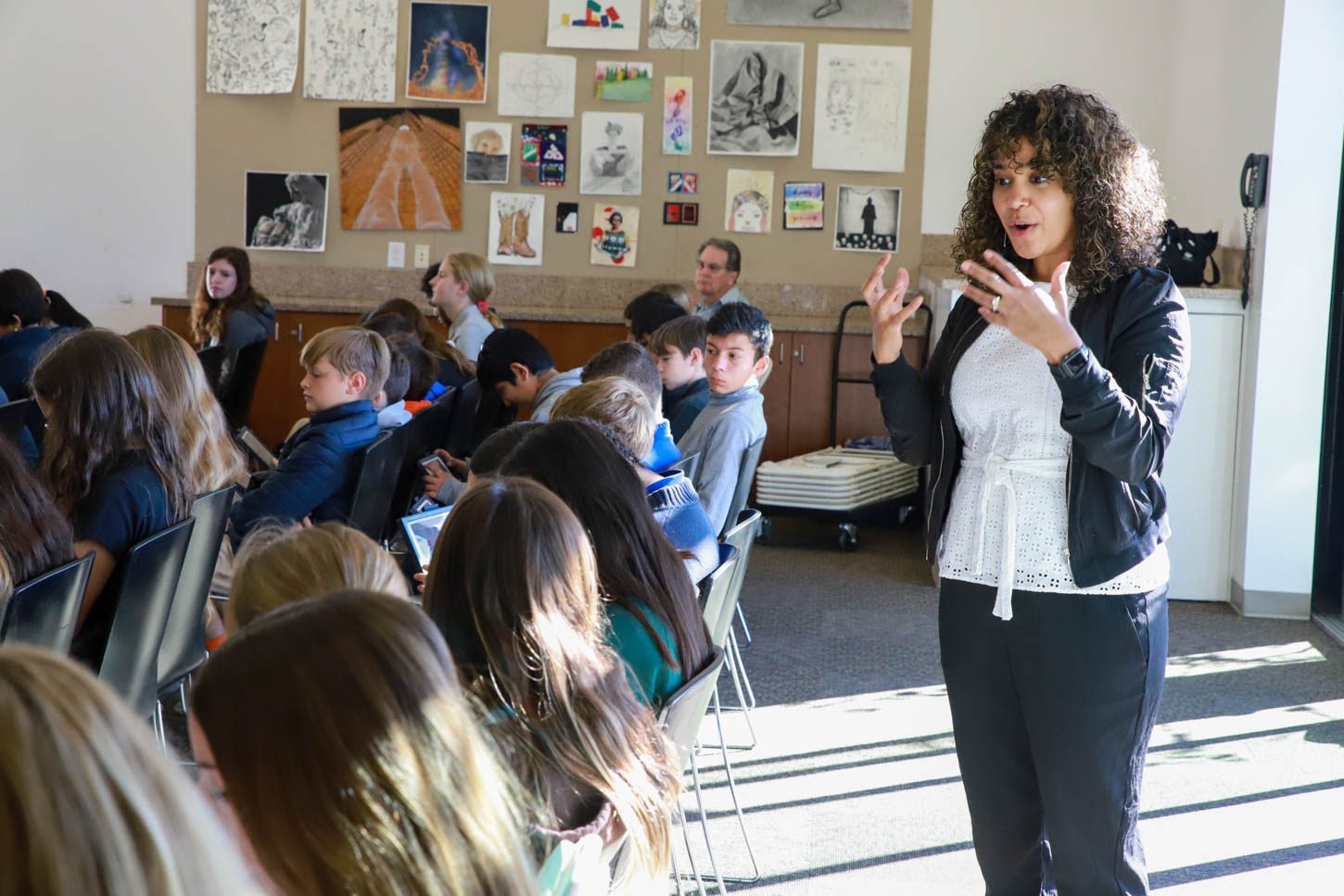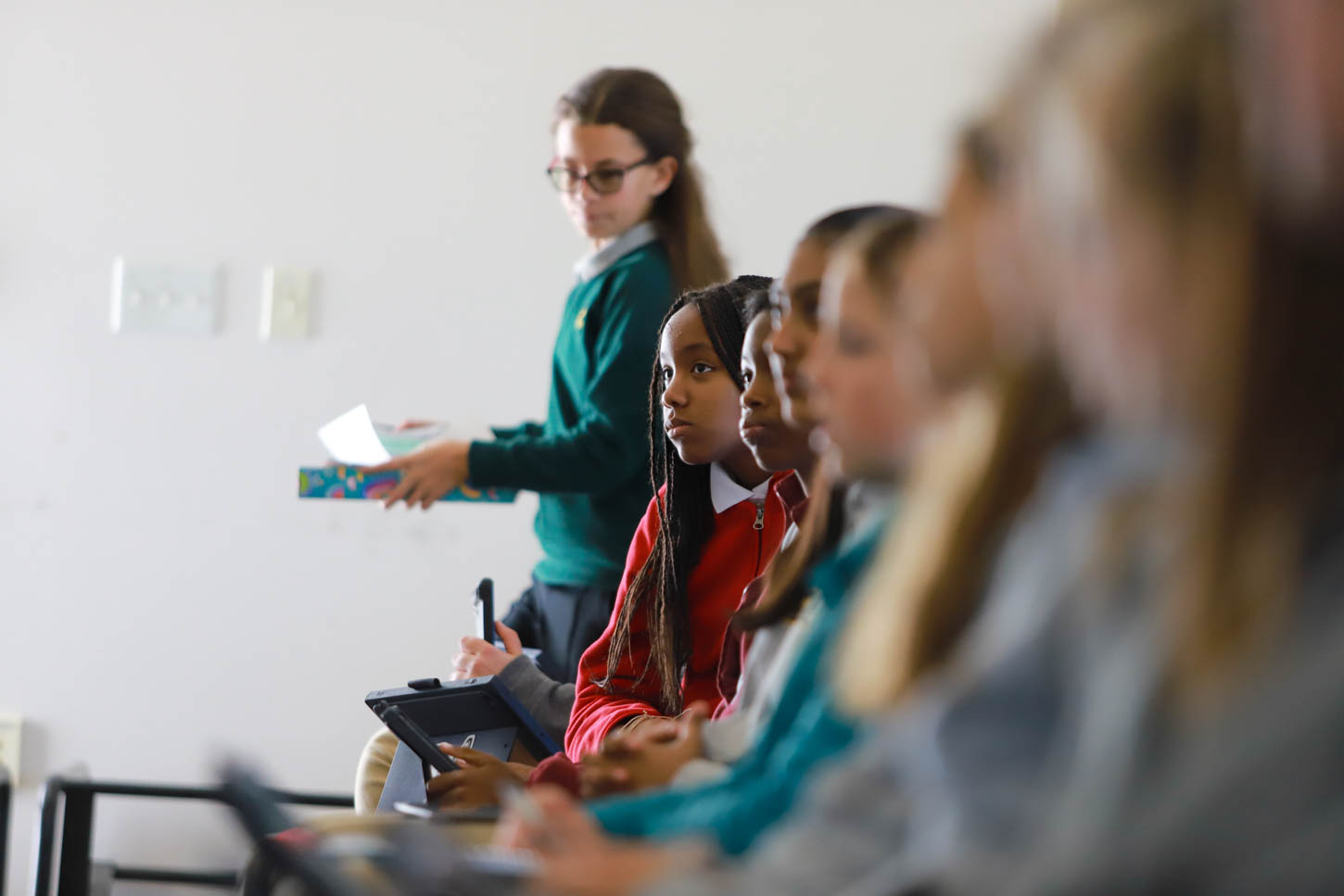 Elizabeth is the visiting poet for Parker Poetry Week 2020, and she is leading a writing workshop centered on how to write a clap-back poem–a piece of poetry meant as a verbal reaction to someone else's action.
"My poetry is often written as a response to what I should have said," Elizabeth explains to the students.   
The students are instructed to choose between three brainstorm ideas as they prepare to write an original piece.  
"Poems need to feel special," she says, weaving around the room like a veteran teacher. "They need to know you chose them." 
During her two days on campus, Elizabeth led writing workshops for Middle and Upper School students, led assemblies at both campuses, and was the featured speaker at Parker Poetry Salon in J. Crivello Hall on Feb. 6.
"Elizabeth was phenomenal," says English Teacher Chris Harrington, the founder of Parker Poetry Week. "We chose her to be our visiting poet because we thought she would connect quickly and meaningfully with our students–she exceeded our expectations in this respect. From the workshops to the big performances, she was all-in, all-of-the-time. Fully present, bursting with energy, modeling what it means to be comfortable in your own skin."  
Poetry Week 2020 featured five days dedicated to the written word. Students, faculty, staff, and the Parker community participated in a multitude of poetry-related events, including poetry readings and book discussions, as well as original dance and music. 
"Each Poetry Week has built on the last, so by that measure, I think this year was the best yet," Chris said. "Because this was the third time around, faculty got more and more creative about finding cool ways to incorporate poetry into their curriculum. I went to Eric Taylor's class on Friday and students were stepping up and reading odes to famous labor leaders in American history. The poetry events were well attended, the poems read in Crivello were personal and meaningful, and the whole school was abuzz with poetic energy."
Poetry Week is one of the few annual events that reach the whole school community, Chris says.    
"Because poetry is so flexible in its application, it can reach every corner of the school. Poetry Week connects students, teachers, administrators, staff, and parents from all three divisions. And because poetry is such a personal and creative endeavor, it allows people to connect on emotional and even spiritual levels. It's a massive community event that has flowered organically into something that feels authentic and inspiring."
"Looking forward to next year, I would want to build on the energy that we saw this year and continue to shape the week as an inclusive and authentic celebration of language."