Former SD Chargers linebacker excited to lead Lancer Football program
By Matthew Piechalak | [email protected] 
Linda Vista, Calif. – Former San Diego Chargers linebacker Stephen Cooper has been selected as the next head football coach at Francis Parker School, the School announced Monday. 
Stephen comes to Parker after spending four seasons as a linebackers and defensive coach at San Diego High School, where he helped the Cavers win both a CIF championship and a Division 5-A state title in 2018. He has also been active in youth football for the past decade––formerly as a coach with the Balboa Raiders Youth Football and Cheer organization and currently with the San Diego Bolts in Grossmont. 
"I'm excited," says Stephen. "It's a new start for me and I know we are going to do our best to build the program. It's a great situation. Parker has a lot to offer with the curriculum and the opportunities for the kids to be successful as student-athletes." 
"We are excited about bringing Stephen on," says Parker Director of Athletics Anthony Thomas. "He has won on all levels and more importantly, he uses his own life experiences to teach his athletes about making the right choices. He is someone who will build character and represent Parker in the highest regards."
Stephen succeeds former Parker Football Head Coach and Parker alumnus Matt Morrison '05, who led the program for the past four seasons. Following the conclusion of the football season this spring, Matt accepted a position as head football coach at Trinity Valley School in Fort Worth, Texas. 
Stephen played linebacker for the hometown Chargers from 2003-2011. A torn bicep in the 2012 season ended his playing days. During his professional career, he accumulated 503 total tackles, 9.5 sacks, eight interceptions, eight forced fumbles, and five fumble recoveries. 
Originally from Wareham, Massachusetts, Stephen played quarterback, wide receiver, and running back at the US Naval Academy Preparatory School for one season before transferring to the University of Maine, where he played linebacker and quickly became a star. He was named the Atlantic 10 Defensive Player of the Year in 2001 and 2002. 
During his eight-year NFL career, Stephen was named a team captain three times.
"Being an undrafted free agent from a small school in Maine to having guys like [quarterback] Philip Rivers and [running back] LaDainian Tomlinson vote for me to be a leader of the team and look to me for guidance was my greatest accomplishment." 
Stephen says that the best leaders are players who are great communicators and who lead by example––both on and off the field. Ultimately, the hope is that every player on the Parker roster exhibits leadership qualities worthy of being a team captain. 
"They're all going to be leaders," he says. "I want every kid to feel like they can put their best foot forward and they can speak up and lead. It doesn't matter if you're the last guy on the roster, I want all of  them to speak up and be confident because we are all in this together."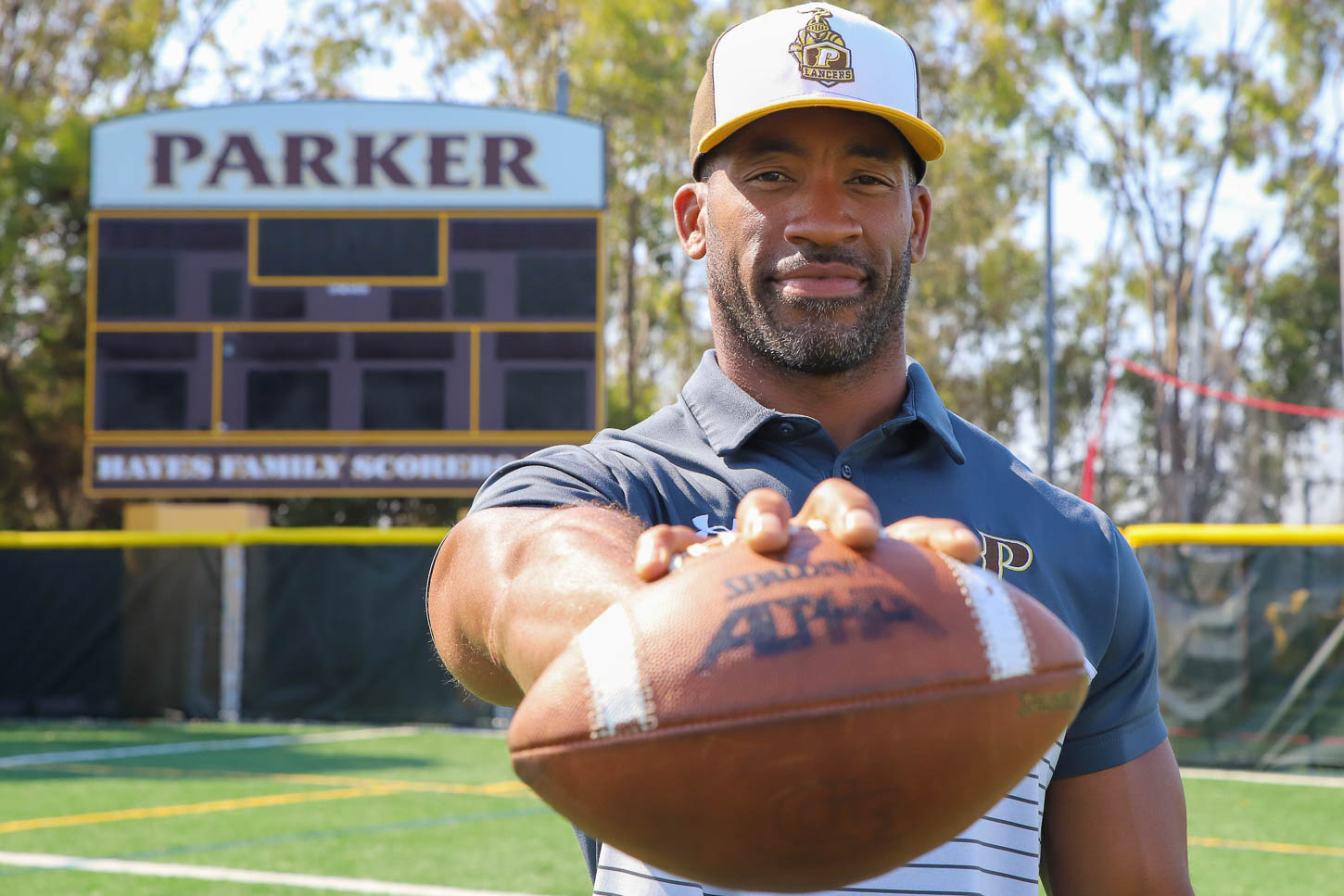 As a football coach, Stephen describes himself as enthusiastic, motivated, fun, and open-minded. 
"I'm all about the kids developing and learning on the football field, but also learning life lessons along the way," he says. 
Stephen has yet to meet with the team, but has a message for them: be ready to have fun. 
"The coaches are going to be accountable and do their best to implement all the information that is needed to be a successful football player, but overall, it's just about getting out there. We are going to have a fun time and we are going to compete for a CIF championship and hopefully compete for a state championship." 
Football is a family sport, both on the field and off, Stephen believes. He's excited to get Parker families out to the games this fall and equally excited to build his team. 
"Football is a team game––you need all 11 guys that are on the field doing one thing together," he says. "Everybody needs to collectively be accountable for each other, rooting for one another, motivating one another, and just being there for each other." 
Parker is a great place for kids to be student-athletes, adds Stephen. 
"These kids put a lot of work into being successful in the classroom," he says. "I know being successful in academics will transfer over to the field. "I love this School because that work ethic and mindset is really going to help these kids."