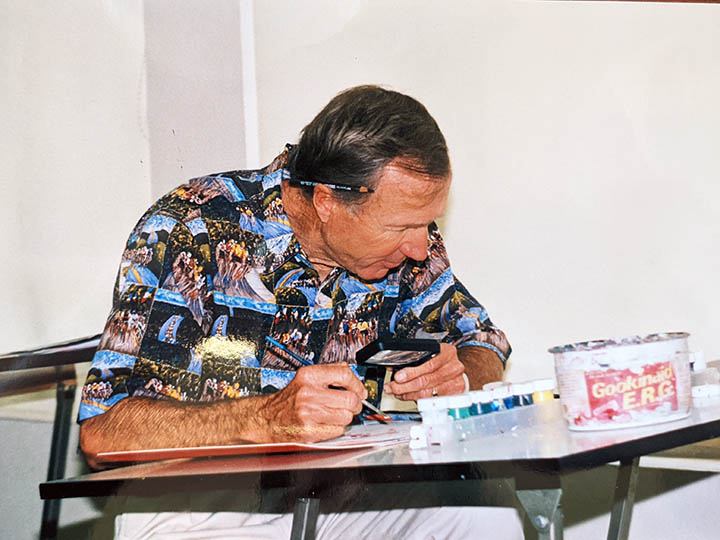 Alan Johnson fueled creativity at Parker for two decades
By Matthew Piechalak | [email protected] 
Entering Alan Johnson's art studio was a welcomed reprieve from the daily academic rigors experienced by all Parker students. 
The double doors were always wide open to a room both bright and welcoming. It was a space to find inspiration––to create.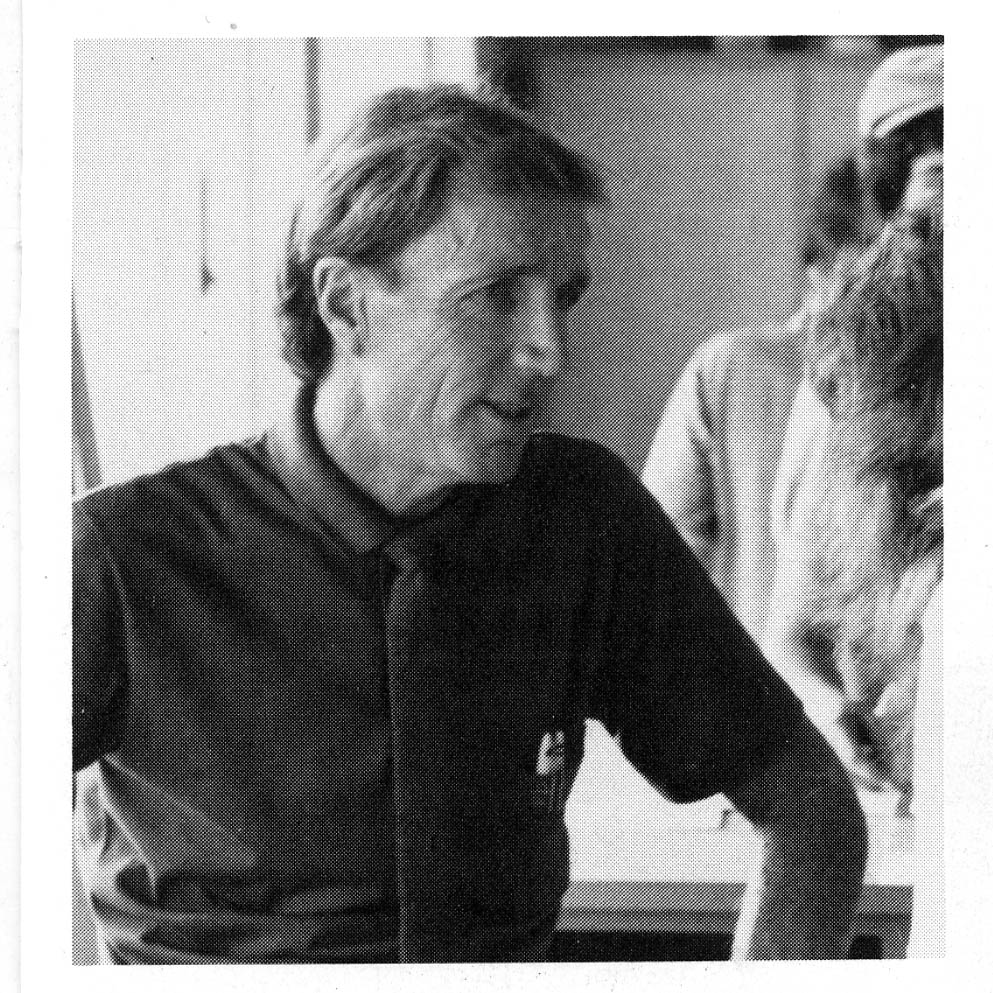 "The environment was so uplifting and positive," says Parker alum Neal Johnson '85, one of Alan's two sons. "Students would pass by and be so inspired seeing their friends doing cool art projects that they were encouraged to take his classes." 
Alan used art to connect with, and uplift, others throughout his life. 
Alan passed away on March 17, 2021. He was 88-years-old. 
"He was one of the most creative guys I've ever been around," says Neal, creative director for Upper Deck, a sports trading card company. "He was a mentor for me––that's where it all started for me… with my dad as an art teacher at Parker." 
Alan taught Middle and Upper School art classes at Parker from 1979 to 1998. Upon retirement, he continued to teach art during Summer at Parker annually until 2019.
"As a teacher, he was not a micromanager," recalls Neal, who had his father each year for art. "He let you run with things and gave you encouragement. He would critique your work, but it was always very uplifting and positive."
"Teaching can be intense," says Sharon Carroll, a former Parker teacher who served as Head of Middle School from 1988 to 2002. "Alan's way of dealing with intensity was to dilute it with calm, to negate a frown with a smile, and to keep his focus outward toward his students who devoured his every encouraging word and grew from interacting with him. Kids overbooked his classes––they loved learning from him." 
Sharon met Alan in the Fall of 1980. Her family had just moved to San Diego and were considering sending their children to Parker. 
"Many public areas of the School––both campuses––were graced with Alan's paintings," Sharon recalls. "When I met Alan that summer, I was surprised to find a soft-spoken, unassuming man. Everyone knew him and sang his praises as though he were a contemporary Rembrandt." 
Alan was born and raised in National City and attended San Diego State University, where he met his wife, Nickie. 
"He was an honest person and such a good listener," says Nickie, who also worked at Parker as a Middle School secretary to Sharon Carroll and later in Administration. The couple were married for 64 years. 
After graduating from SDSU with an art degree, Alan was drafted into the US Army and stationed at Fort Ord in Monterey Bay, where he used his art skills to create training aids. 
Upon discharge from the army, Alan worked as a commercial artist for Phillips Ramsey, a San Diego-based advertising agency, from 1959 to 1979. Most notably, he worked on a team that designed the WD-40 logo. 
After two decades of creating art in the fast-paced advertising industry, Alan sought a different career path and returned to SDSU to obtain his teaching credentials. He came to Parker in 1979.  
"The agency [life] can be pretty crazy," says Nickie. He wasn't that kind of person, he was much more low-key."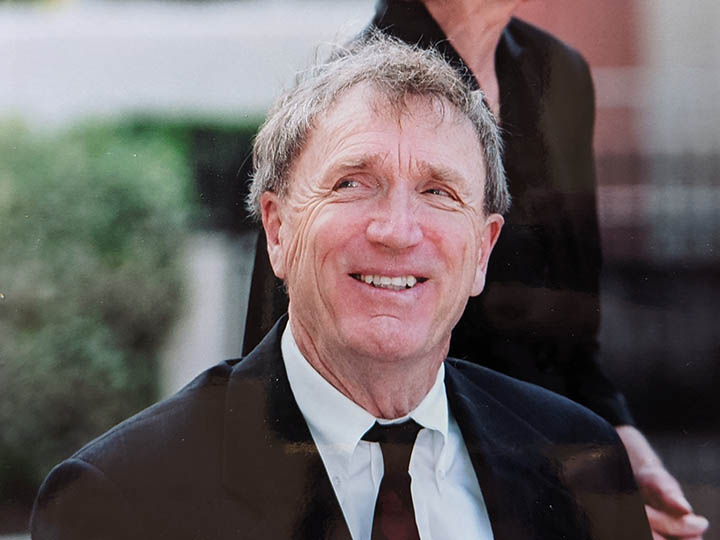 Alan was well-liked by all his students and influenced generations of aspiring artists. 
"He not only taught his students art, he listened to their problems," says Nickie. 
"Alan was quiet and unassuming, but got the best out of his students," says Parker alum Lloyd Russell '85. "He was sort-of that invisible hand that would step back and allow you to make the discovery on your own."
Lloyd, now an architect, says Alan had a big impact on his life as an artist. He recalls walking by Alan's studio for the first time.
"I was pretty intimidated," Lloyd says. "It was quiet like a library. "Everyone was busy and their projects were amazing."
Despite his initial trepidation, Lloyd enrolled in Alan's class. He says it was Alan's teaching approach that changed everything for him.
"With Alan, there was no stress, no tension, no attitude," Lloyd says. "He took me out to the edge of the parking lot and we sat in the hot sun and drew the grills of the cars. I was super impressed that he went out of his way and also gave me the space to struggle with this in private."
"He said, 'just draw what you see'. As simple as it sounds, that mantra worked and still works for me to this day." 
Aside from his art career, Alan's greatest passion was cycling. He co-founded the Banana Gang, a competitive cycling group. In 1997, he attained his highest accolade, becoming a Southern California/Nevada Champion Road Racer. 
Ask anyone who knew Alan and they'll remember his affinity for commuting to Parker each day on his bike. It was always a circuitous route, too. 
"He would often make the route more difficult in order to get a better workout," says Neal with a laugh. "When I started driving as a teenager and took the car to School, we would sometimes race and despite his long route, he would always beat me. When I would pull into the parking lot, he would smile and say, 'what took you so long?'" 
Tragedy struck in May 1997, when Alan was hit by a car while riding his bike to School. A severe spinal cord injury ended his competitive cycling career. Alan was in the hospital for three months and many believed he would not be able to return to teaching. 
Yet that fall, he returned to his classroom. The following year, he decided it was time to retire. 
In retirement, Alan continued his three passions––art, teaching art, and cycling on his Greg LeMond spin bike. 
During his most recent hospitalization, word of Alan's art skills spread among the nurses, says Sharon. 
"They brought photographs of their children to him and he would paint the kids' portraits," she says. "As he was released at the end of his stay, the nurses organized an Alan Johnson Gallery of his portraits that extended the length of one of the hallways, and he smiled as he was wheeled down the aisle formed by nurses and the portraits of their children that Alan had painted." 
Alan's legacy, just like his art, will continue to influence those in the Parker community that learned from, worked with, or just had the pleasure of walking past his art studio.