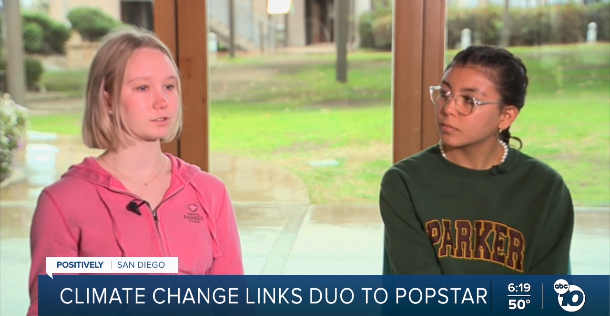 When they first received word that they were going to be featured in Vogue magazine, Ryan Berberet '24 and Sydney Kroonen '24 didn't believe it was real. 
This past fall, the two Parker juniors were invited to be featured in a Vogue article and video alongside other young climate activists and famous music icon Billie Eilish. 
Outside the classroom, Ryan and Sydney serve as co-presidents of the Green Team, the environmental club on campus. The duo registered the club as an action team with Action for the Climate Emergency, a non-profit organization that educates, inspires, and supports young people who advocate for climate issues. And when Vogue reached out to their ACE mentor asking if she knew any young climate activists in Southern California, Ryan and Sydney immediately came to mind for their passionate dedication to the cause.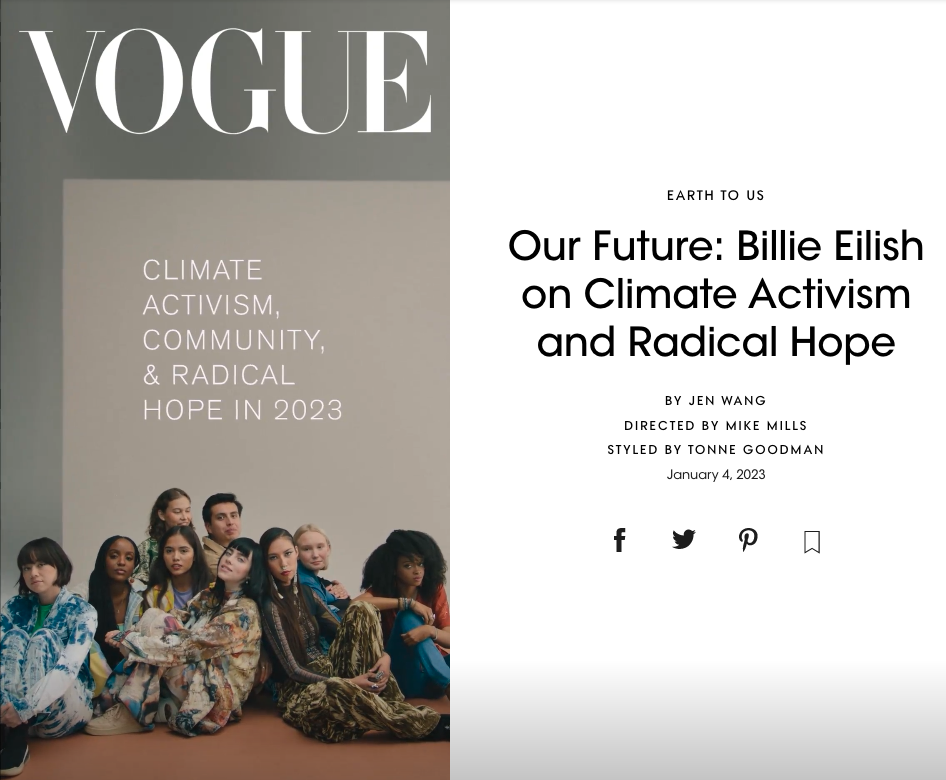 Ryan's experience on the Vogue set
The shoot took place on a sound stage in Los Angeles – eight young activists joined Billie Eilish to talk about climate, community, and hope. The singer, a committed environmental activist herself, wanted to bring purpose to her time with Vogue and invited Academy Award-nominated director Mike Mills to film the mini-climate summit.  
Unfortunately, Sydney tested positive for COVID, so Ryan traveled to LA to participate in the shoot. "My favorite part was sitting down and talking with the other activists," Ryan explains. "Each one of their stories is so inspiring." 
The other climate activists at the shoot represented a diverse group of young people united under one cause—bringing awareness to and inspiring change around the climate crisis. The shoot included activists and organizers like Isaias Hernandez, Quannah Chasinghorse, and Nalleli Cobo.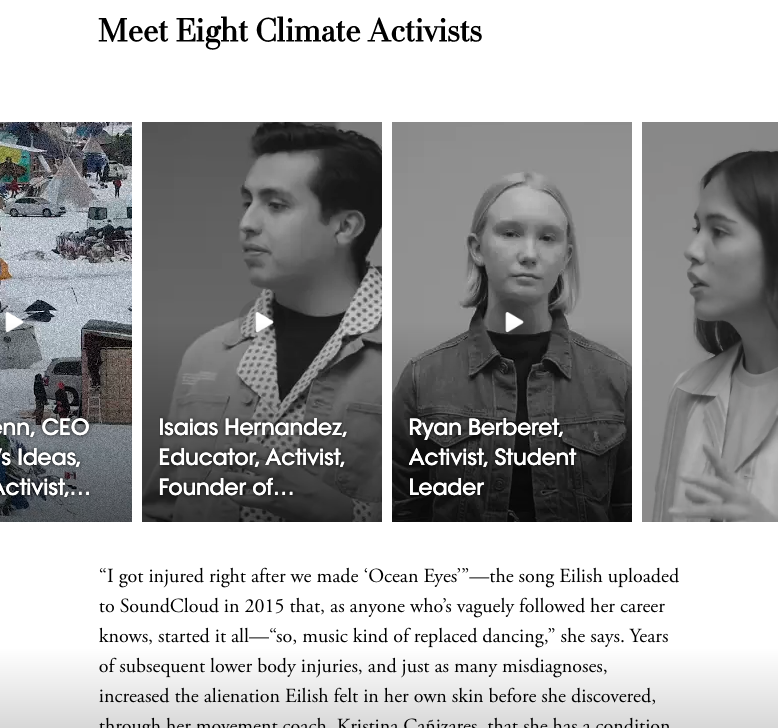 The duo's hope for the future
Ryan and Sydney are hopeful that a piece in such a prominent publication featuring an ultra-famous celebrity will contribute to a societal shift toward environmental change. 
"If we keep talking about it, and you keep getting little bits and pieces throughout your everyday life and through different media that you consume, then people might start to piece it together and realize the gravity of this situation," Sydney explains.
Ryan hopes her and Sydney's involvement inspires more Parker students to read the piece or watch the video.
"I hope people will watch it because they know Billie Eilish or people at School might watch it because this random person in their grade is in Vogue." But she also emphasizes that despite the fame surrounding the pop star and the magazine, she hopes people take the time to listen to everyone's stories and better understand the cause. 
What's next for the climate activists?
The entire Vogue experience left Ryan and Sydney hungrier than before to drive change, and they have a full list of current projects and those in the works. They're both involved in a campaign in the Greater San Diego area called Youth v. Oil; they regularly attend climate rallies like a recent one focused on pressuring Biden to declare a climate emergency; and they're running an environmental activism workshop at the 2023 Day of Understanding at Parker.
Inspired by hearing her story during the shoot, Ryan and Sydney invited Nalleli Cobo to be a keynote speaker at Day of Understanding, where she will give a keynote address and assist in leading a workshop. Raised in a South LA neighborhood, Nalleli grew up with a toxic oil well 30 feet away from her family's apartment—a situation that led to a reproductive cancer diagnosis at the age of 19 that, after treatment, left her unable to bear children. 
"We are excited to share her voice at Parker," Ryan says. "A lot of people at Parker don't care as much about the climate crisis because it doesn't impact them. So, sharing a voice that is more heavily impacted will hopefully inspire people to change."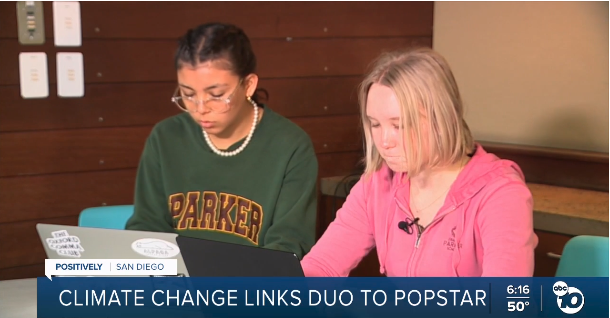 Ryan and Sydney were interviewed by several local publications about their Vogue experience and their activism work.
Making a meaningful difference in the world
It's hard not to feel a sense of contagious excitement when talking to Ryan and Sydney about climate activism and all the change they're working to create.
True to the School's mission, Ryan and Sydney are well on their way to making a meaningful difference in the world. 
Read the full Vogue article and watch the video here.

Additional Coverage by ABC 10 News San Diego, The San Diego Union-Tribune, The Coronado News, and The Brunswick News.