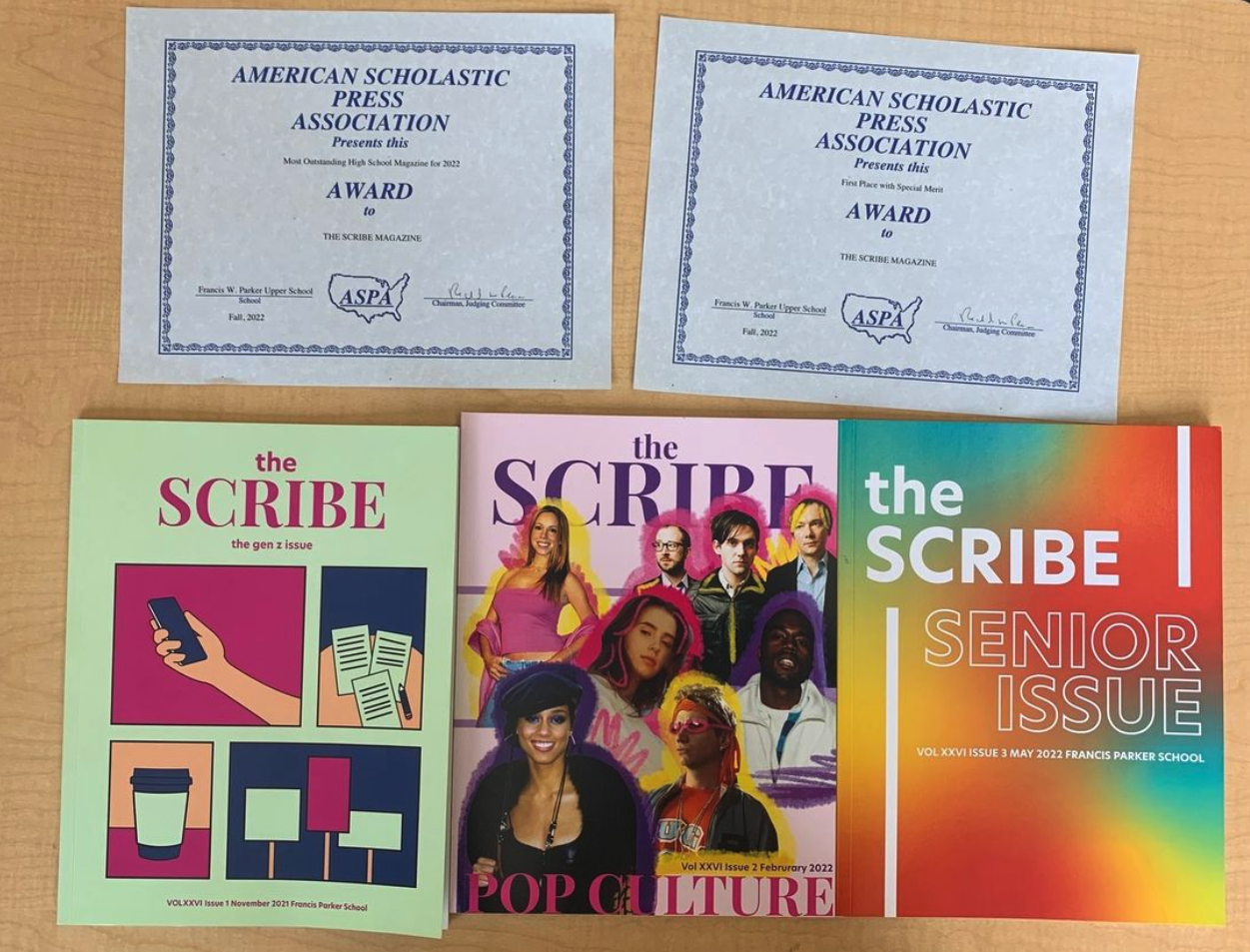 The Scribe, the official news magazine of the Francis Parker Upper School, received two high honors from the American Scholastic Association during the group's Annual Contest/Review for Scholastic Yearbooks, Magazines and Newspapers.
For the second year in a row, the literary and arts publication won the award for Most Outstanding High School Magazine for 2022 and First Place with Merit in the 2022 Scholastic Magazine Award category. 
"Your ability to keep your publication alive and printing during a pandemic is a testament to your dedication and devotion to your publication, school, community…and each other," stated one of the judges for the contest. "Congratulations on surviving this unpredictable situation successfully!"
The 38 students that contributed to The Scribe in 2021-2022 worked tirelessly with advisor Nancy Anderson to write, edit, and produce the magazine—providing reports on major news and current events and a cutting edge take on campus life and culture. The group publishes multiple issues a year, each at about 60-70 pages in length. 
"Working with the students on the Scribe staff is best described as "togetherness." The sole reason we are able to produce the quality of work that we do is because of the connections in the class," states Nancy Anderson. "They learn from one another; they hold each other accountable and they grow together as well as individually. Creating each issue is a major commitment but these kids do it with passion."
The Scribe was chosen from dozens of entries to once again win these exciting awards. "The Scribe is a model for those up-and-coming magazines and an inspiration for those that haven't quite aced the necessary skills," another competition judge states. 
Congratulations to The Scribe staff for their hard work! We can't wait to read each new issue.