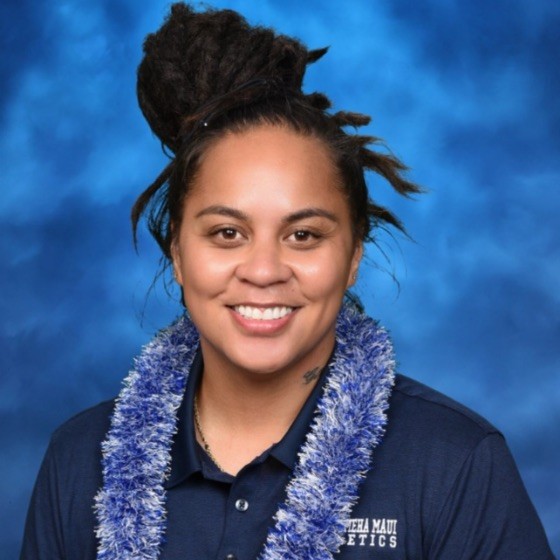 Francis Parker School is excited to welcome Mahina Y. F. Hannemann-Gago as Parker's next Athletic Director starting in July 2023. Mahina started her career as an Academic and Athletic Advisor at Quest Preparatory Academy in Nevada and has worked at The Kamehameha Schools Maui since 2016 as their Associate Athletic Director.
Mahina was drawn to the Athletic Director role at Parker due to the School's mission of "creating and inspiring a diverse community of independent thinkers whose academic excellence, global perspective, and strength of character prepare them to make a meaningful difference in the world."
Mahina earned her bachelor's degree in Exercise and Sports Science from Brigham Young University of Hawai'i, her master's in Educational Policy and Administration from Dakota Wesleyan University, and her Ed.D. in Interdisciplinary Leadership from Creighton University. 
Having personally experienced the positive impact of education in her own life and how it set a foundation for her identity and what she stands for, Mahina recognized that Parker would provide her with a platform to make a meaningful difference for students.
Proud of her Sāmoan/Hawaiian heritage, Mahina is eager to share her culture with the school community and make valuable contributions to the athletic program at Parker. Mahina comes from a family with a diverse athletic background, and this has significantly shaped her vision, background, and goals for Parker's athletic program. "Our shared successes and failures have helped me to understand that sports are just a pathway," Mahina says.
Mahina will join Francis Parker School shortly after the official start of construction for the Parker Forward project, which will allow Parker to further develop the physical education program, reinforce the School's commitment to a full slate of athletics, and provide students with a platform to develop essential skills for maintaining current and future physical health, as well as mental, social, and emotional well-being.
As the new Athletic Director, Mahina's primary goals and objectives revolve around creating safe and equitable opportunities for student-athletes to develop as individuals and learners within an education-based athletic department. She firmly believes that every athletic experience should offer student-athletes the chance to grow and learn through adversity and success. With this in mind, Mahina is determined to continue providing such experiences to foster the personal development of student-athletes.
In supporting and promoting student-athlete success, Mahina places great importance on building personal connections. She takes pride in knowing each athlete by name and face. "The educational and athletic experiences are much more impactful when they are personable," Mahina says. "I want to ensure every student-athlete has access to me, to talk story and just know they have an administrator who will always advocate for their safety and on their behalf."
Mahina intends to ensure that every student-athlete has access to her, providing opportunities to engage in meaningful conversations and fostering a sense of belonging. By being available and approachable, she aims to create an environment where student-athletes feel supported and empowered.
Mahina's commitment to student-athletes' holistic development extends beyond their athletic performance. Recognizing the limited opportunities for high school athletes to continue their athletic journey at the collegiate level, Mahina firmly believes in the importance of high school education-based athletics. She understands that these programs provide a solid foundation and structure that can make a meaningful difference in student's lives, including their overall well-being and academic success.
By fostering a supportive environment and advocating for their needs, Mahina aims to help student-athletes thrive both on and off the field. She understands that a successful athletic program goes hand in hand with academic excellence and personal growth, and she is dedicated to ensuring that student-athletes have the resources and support necessary to achieve their full potential in all aspects of their lives.